Best Grill Cover Reviews to Protect your Favorite BBQ or Smoker
Outdoor grilling has risen in popularity over the past ten years, and if you are one of the 85 million Americans who have the pleasure of owning an outdoor grill, you know that your Weber grill or other grill is more than just a functional tool, but rather an investment and way to show off to everyone how good a cook you are.
Most of all, it is the perfect way to bring your friends and family together for good food and good times.
This is why you'll need a grill cover . However, how do you go about choosing the best bbq grill covers?
You'll first need to look at two main factors: durability and quality.
You need to pay close attention to these, as your cover will be doing all the work to protect your investment.
Dimension and design is the third element you should be looking at.
If you have a BBQ that will be sitting outside with no roof over it, you'll definitely want the best quality and durable of barbeque grill covers available.
You also need to first look at what kind of cover you'll need.
If your bbq is inside all the time, you can choose from cheap grill covers which will keep the dust off, and if it is always in a hallway our outside, you want something that will be waterproof so it is fully protected.
For a cover that will be long lasting and durable, you'll want a heavy duty cover.
I Found these 5 Best Grill Cover to Protect your Equipment Better:
Below you will find the Review of these five quality Grill covers for your smoker or grill to help you get started on you search for the perfect one for you.
Masterbuilt 30 inch Electric Smoker Cover Review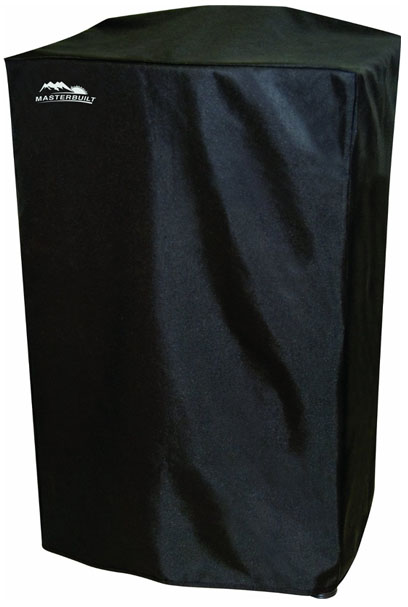 Purchase This Product on Amazon

Once you have gone and spent the money on a Masterbuilt smoker, you'll want to also invest in this Masterbuilt Smoker cover.
Keep your expensive outdoor equipment safe from any dirt, harsh weather conditions, dust or debris with this Masterbuilt 30 inch electric smoker cover.
This is a large and heavy duty sheet which is constructed of a high quality polyester material. It won't fade nor will it let any foreign elements underneath it.
You can keep your equipment in tip top working condition all through the summer.
This Masterbuilt 40 electric smoker cover is quite durable and it is coated in polyurethane, which makes it the perfect protective shield for your smoker cooker.
It was built to fit all Masterbuilt 30 inch electric smokers, plus it has been made to last from one season to another.
Main Features
Resistant to fading
Reinforced, high-quality polyester construction
Made to last from season to season
Fits all Masterbuilt 30/40 inch electric smokers
Masterbuilt electric smoker covers are built to last and to fit specifically to the Masterbuilt brand.
They are well worth purchasing to protect the investment you have made in your smoker cooker to help it to last for many seasons to come.
Classic Accessories Veranda Square Smoker Cover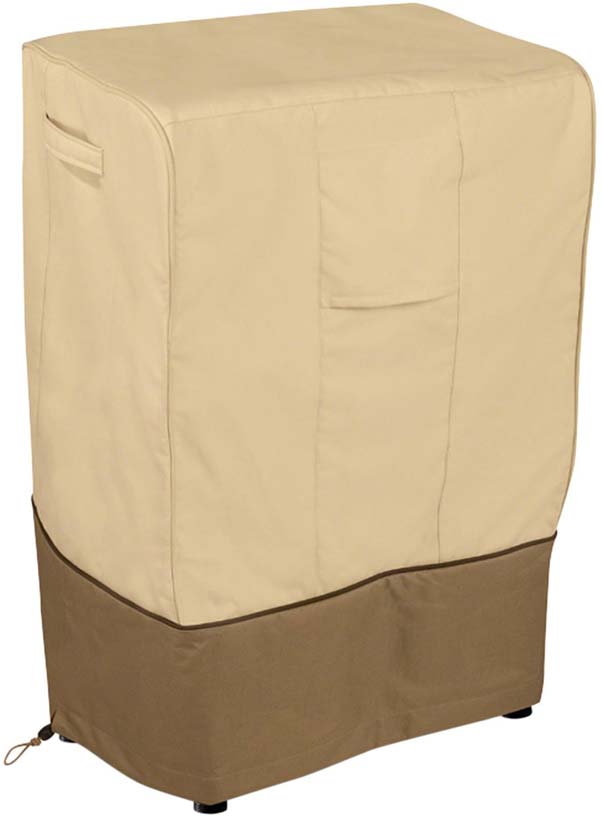 Purchase This Product on Amazon
The Classic Accessories smoker cover in the Veranda collection offers you the best in protection with great style.
This cover has many great features such as the dark splash guard that hides waters pots and stains, while the high-flow air vents protect your equipment from mildew and mold.
The buckled straps of this BBQ cover attach to the legs of your smoker cooker to help keep the cover on even in the worst weather.
The undercoating that is water-resistant will keep any rain from penetrating, making sure that your smoker is kept dry and protected from the elements.
This square smoker cover also features a convenient drawstring hem which gives a custom, tight fit, while the large, padded handles make adjustment or removal of the cover hassle-free and really convenient.
All of the smoker covers from the Veranda collection also give you a 3-year warranting which guarantees replacement if they are damaged by the sun, dry-rot, or mildew and mold.
Main Features
Fits all Masterbuilt electric smokers
Beautiful fabric with a protective waterproof undercoating and splash guard skirt
The fabric will not crack in cold weather
Handles which are padded for easy removal and fitting
Elastic hem cored with a toggle lets you adjust the cover for a custom, tight fit
Air vents lower wind lofting and inner condensation
Fits square smokers up to 17 inches long and 20 inches wide
KHOMO Waterproof Heavy Duty BBQ Grill Cover Review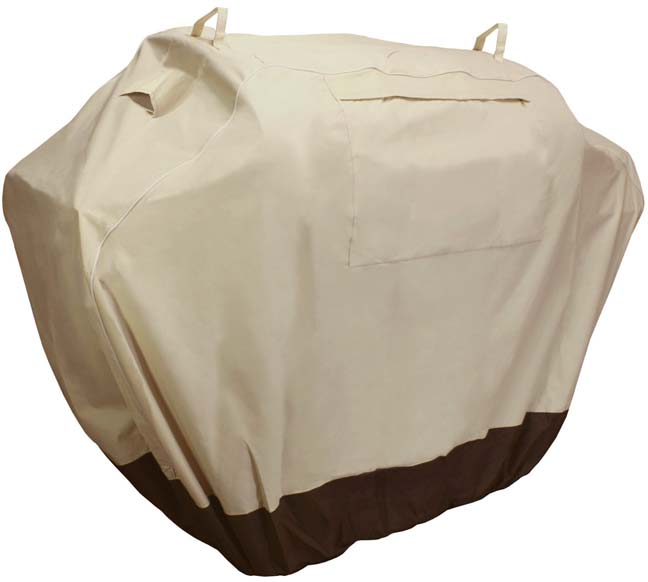 Purchase This Product on Amazon
Covers are a must when you've invested in a new grill. This heavy duty grill cover from KHOMO will keep your grill dry and clean, plus will keep it looking great like the day you bought it by limiting any exposure to the outside elements such as rain, wind, dust, snow and dirt.
It has a protective fabric system which features an elegant fabric top which is treated especially so it won't crack in the cold weather.
This is also a waterproof grill cover, acting as a repellant to water and it has a PVC under-coating which is resistant to water.
There is even a splash-guard skirt for protection all over from top to bottom.
For more convenience, this KHOMO grill cover also has padded handles which make fitting and removal easier, and it has straps which snap over the legs of you barbecue so the cover will stay in place, even during wind.
The adjustable elastic hem cord that has a toggle on it makes sure you get a custom and tight fit as well. The air vents on this large grill cover also lower the ballooning and condensation inside, which minimizes the chance of any mildew and mold building up.
Main Features
Registered trademark of KHOMO and a best-seller of barbecue grill covers
Zippered pocket and air vents
Click-close straps give a secure fit
Compatible with charcoal,gas, electric and natural grills
PVC which is water repellent and can resist all weather conditions
Char-Broil Patio Bistro Cover Review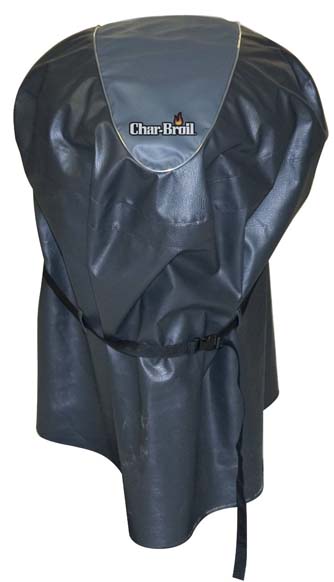 <<< Purchase This Product on Amazon >>>
Char broil grill covers are needed to protect your new grill.
You'll need a cover to protect the beauty of your grill from the forces of nature.
This Char Broil Patio Bistro cover is designed especially for the updated Char-Broil or electric Patio Bistro, fitting around your grill perfectly.
It is made of a heavy-duty vinyl and protects against rain, snow, hail and wind, plus keeps out pests, spiders and debris which can many times get inside your barbeque and be a potential fire risk.
You need a char griller cover that is tough on the outside and a protective inside, which is what you will find here.
The inside of the cover is lined with a polyester-base fabric which protects your grill from getting scratched.
There is also a closure strap which is adjustable and has a side release buckle that secures the cover around the grill so it will stay put, even on days that are very windy.
Charbroil grill covers should also be easy to take care of, and this one is for sure.
All you have to do is wipe it down for easy cleaning, or if you'd like a glossier appearance, you can apply a vinyl cleaner.
Main Features
Heavy-duty vinyl which repels snow, water, wind and debris
Custom made for Char-Broil's electric or gas style Patio Bistro
Adjustable strap for closure and a side release buckle
Internal polyester-base liner to protect from scratches
Easy clean up with a damp cloth
Landmann USA 31979 Vertical Smoker Cover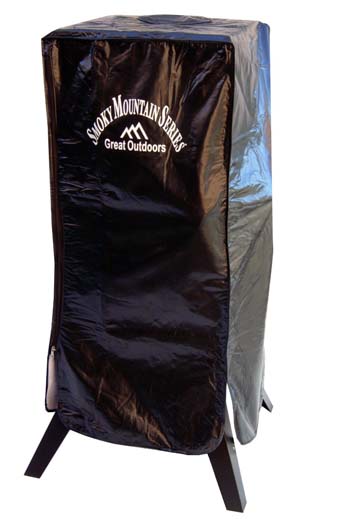 Purchase This Product on Amazon
Vertical smoker covers are a must when you have invested in a smoker cooker.
These covers will protect your investment from getting damaged by the elements, and prevent critters or debris from getting inside.
This Grill cover is made from a heavy-duty material which won't tear or shred with repeated use. Plus, it includes a zipper to make it easier to remove and put on, also preventing any snagging.
This heavy duty grill cover also includes Velcro straps on the bottom of it to make sure that the cover will fit around your smoker snugly.
You won't have to worry about it slipping off, even in really windy weather.
This universal grill cover also has a soft, padded inner lining which will protect your smoker from getting scratched up. For everything you get with this cover.
Main Features
Easily slip cover on and off with the zipper closure
Vertical cover protects your smoker from the outside elements
Keep your cover snugly on with Velcro straps at the bottom of this cover
The above bbq covers are all find choices depending upon the type of grill or smoker that you have.
Remember keep four points in mind which include durability, quality, design and dimension.
When you are checking out the quality of smoker covers, you'll have to check out the workmanship and the materials used to make it as well.
To check out the workmanship of a cover, you can inspect the material itself or find out what kind of material is used if you are purchasing online.
Vinyl, woven textiles or polyester, plus elements such as polyvinyl chloride give you a design that is sturdy and will allow the cover to last a long time.
Products which are inferior could be made of cheaper plastics which can easily erode or tear under pressure.
To check the durability of any heavy duty grill covers, you'll want to check out any reviews online that you can.
However, in the end only the test of time will tell you for sure. You can check within the first few days of use, though, to see how resistant to tearing the cover is or not.
The design and dimension of your cover is important because many are specially fitted for specific types of grills or smokers.
Therefore, you can choose one based upon the kind of unit you have purchased, to ensure a proper and snug fit that won't slip off in high winds.
Large grill covers are available as well for the bigger grills, so you don't have to worry, as there is a grill cover that will meet your needs no matter what they are.