The A To Z Of Big Chief Front Load Electric Smoker
Product Name:
Big Chief Front Load Smoker
Check Price On Amazon
If you already love smoked foods, and maybe have even owned your own Smoker Cooker before to cook delectable foods for your family and friends, you will definitely want to check out this big chief electric smoker.
As a lover of smoked foods, you know that you can never get enough, and sometimes regular sized smoker cookers leave you with just not quite enough room to smoke all the food that you want to.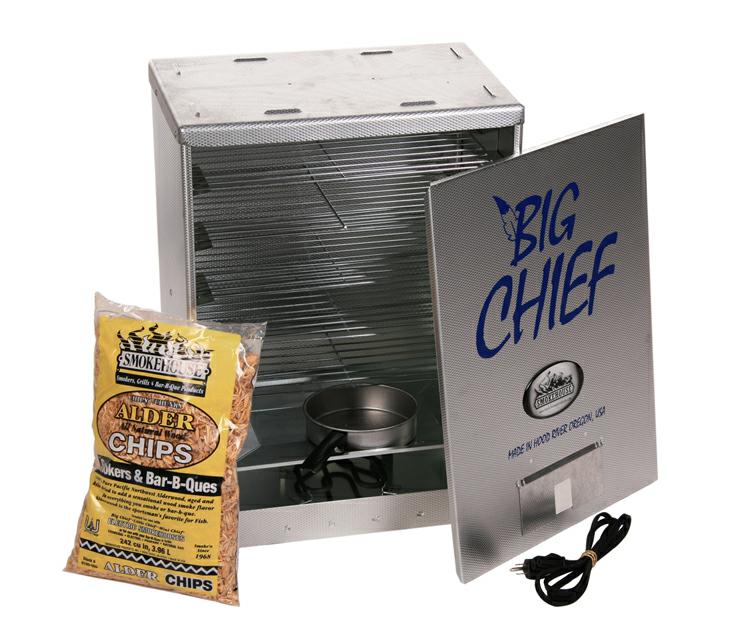 This is why many people go on a search for something a bit more accommodating so that they have the option of smoking more than usual, especially if they are hosting a large summer party.
The art of smoking meats and other foods is not something people always realize that they can do from home. However, it is so easy when you own one of these awesome machines, if you've never tried one before you will wonder what took you so long.
You will just love how amazing your sausages, ribs and other meats come out tasting after they've been cooked in a smoker cooker. For a large capacity smoker that will fulfill your smoking needs, check out the Big Chief Smoker review below.
The Big Chief electric smoker review

This Big Chief front load smoker is manufactured by Smokehouse Products, and it is the biggest version in the Smokehouse family.
It includes a 450 watt element and five grills, making it the perfect smoker for beef, fish, pork, poultry and all other game. This all aluminum unit has been around for several generations, and to this date it is still number one.
It comes with a flavor pan, electric cord, grilling racks and of course the smoker.
This front loading electric smoker lets you smoke as much as twenty-five to fifty pounds of meat at once, making sure you definitely have enough delectable smoked meats for your next family gathering or party.
Big Chief Smoker Review : Main Features
Embossed aluminum construction which is durable
Outdoor use only
Electric smoker with front loading feature
Comes with an instruction and recipe booklet plus a 1.75 lb. bag of hickory flavored wood fuel
Flavor fuel pan with maximum capacity
Drip pan that you can put in the dishwasher
Chrome-plated grills that slide in and out easily
CSA CUL, and UL listed
Big Chief Smoker Review : How it Rates
Customers who have purchased this Big Chief electric smoker love the fact that they can control the Temperature with this unit so that they have the control over how much the meat is getting smoked and how much smoke is used.
They love how great it works for sausages and jerky, plus so many other times. You can fit hams and turkeys in this cooker as well, which makes is perfect for family dinners and gatherings.
This smoker cooker has worked very well for many users and they are quite happy with the performance and the price when compared to other similar cookers.
Customers were also very happy with how it smoked fish and that they could smoke larger things such as turkeys for a period of time and then finish them off in their ovens, giving them total control.
The biggest complaint wasn't even about the product itself, several people had problems with how the product was shipped. Because of the aluminum siding that goes all around this product, and the fact that it wasn't getting shipped in a double box, it was continually arriving with several dents in it.
Sometimes people had to ship it back for a replacement, but most seemed to be able to hammer the dents out and still be able to use the smoker, which they said worked just fine.
The Big Chief electric smoker is a great choice for anyone who is a veteran smoker or even for a Beginner.
As long as you need something that has a large capacity so you can smoke a lot of meat and other foods at one time, you will love the benefits that this size cooker gives you.
Purchase one of these for yourself, but you better plan on having plenty of summer parties this year because all your friends and family will want to partake of all the goodies you'll be making in it!
Check Price On Amazon