Old Smokey Stainless Steel Electric Smoker Review
Product Name:
Old Smokey Electric Smoker
Purchase This Product on Amazon
Summertime is the season when folks come together with friends, neighbors and family to have all kinds of cookouts and other gatherings. It is also the perfect time to be cooking outside, which so many of us love to do.
Who doesn't like freshly grilled chicken, those summer spare ribs? People have been finding more ways to enjoy their favorite summer meats and foods, which is why the popularity of smoker cookers is on the rise.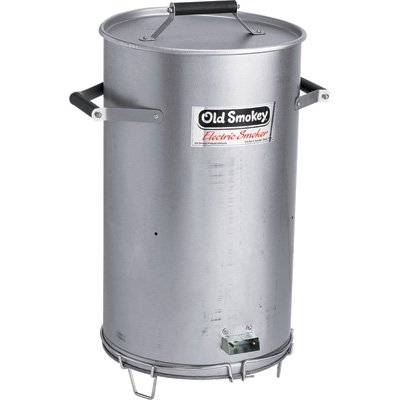 People are continually realizing how great smoked foods taste, and also how easy it is to make smoked meats and other foods themselves when they purchase a best electric smoker .
There are many different kinds of units which are now made for home use, so you have many to choose from depending on your needs.
If you are frequently smoking for a large crowd, you can find large capacity smokers. If you enjoy the taste and convenience of grilled foods you can find combination cookers. The Old Smokey Electric smoker is once such cooker.
What's This Cooker Like?
With this Old Smokey smoker, you'll be able to get that delicious and authentic BBQ feel and taste to all your foods.
You'll be able to impress your friends and family with the ability to cook like the masters with this Barbeque smoker.
This unit features a heating element like you would find in your electric oven.
On top of this element, there is a chip tray into which you place the wood chips to get that wonderful smoky flavor. The first level of cooking contains a drip pan as well for easier cleanup and a lower grill. Plus, you won't ever have to add any water to this smoker since it is electric.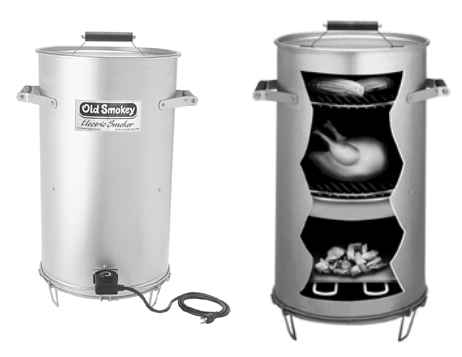 On the upper level you will find another grill. With its flat top, the Old Smokey Electric Vertical smoker allows all the juices to drop down right back onto your food. Plus, the lid to this cooker seals very tightly while you are cooking so that all of the flavor and smoke will remain inside, and will also shorten the length of your cooking time.
The smoker itself is controlled by a variable Heat Thermostat, which allows for a big variety of cooking styles and times.
The carrying handles on this smoker make it easy and convenient for you to move it around when necessary, and the entire thing is made of aluminized steel that is resistant to corrosion.
The heating element of this stainless steel electric smoker is adjustable so that you can get just the right temperature to smoke and grill your foods.
Main Features Of Old Smokey Electric Smoker

This smoker measures 15.5 inches wide by 15.5 inches deep by 29 inches high
Controlled by a heat thermostat so you can use a variety of cooking style and times
Grey, aluminized steel
Equipped with a flat top so the juices drip down back to the food
There is a chip tray on top of the heating element, letting you use different wood chips for the smoky flavor
The Reviews Of Old Smokey Electric Smoker

Many people opted for the Old Smokey electric smoker because it was in the middle of the road in regards to price.
They wanted something better than the cheap and flimsy models in some stores, but didn't want to spend two hundred dollars or more for the really professional models.
These customers were quite pleased with their purchase, saying that the operation of it was simple, and it was easy to put together.
They also say that the workmanship of this smoker is good and it won't be just falling apart.
Some of these people even had friends mocking them for purchasing an electric smoker, but say no one has yet to complain about the delicious foods they can make with it.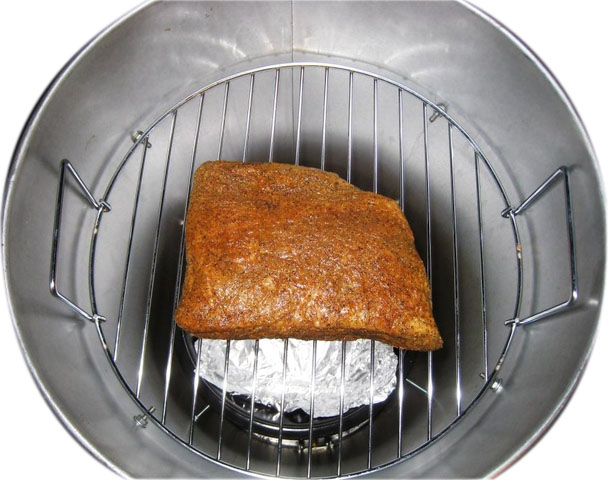 The convenience of the electricity also pleases many, as in one Old Smokey Electric smoker review the customer stated that they were very pleased with the fact that you could set this up to cook and not have to keep checking on it.
They didn't have to worry about adding more charcoal or running out of propane at any time, and yet knew it was doing its job while they could get other things prepared.
Users say that this smoker heats up quite quickly, and it operates as is advertised.
The stand it sits on isn't necessarily much to look at, but is sturdy and does the job. Some people do recommend that you purchase the option Temperature gauge so that you can easily maintain the temperature you need.
If you are looking for a mid-price ranged smoker cooker, and one that has the convenience of using electricity rather than coals or propane, than the Old Smokey is likely a great choice for you.
Purchase This Product on Amazon