As you probably know, there are more than 50+ e-smoker brands in the market that sell their products both online and offline.
While browsing through them I have found that some of the smokers have excellent reviews with a perfect 5 stars, while others fail to reach the minimum benchmark.
While I was going through some of the name brand smokers in the market to find the top electric smokers, I have found that there are options available such as great insulation, economical cooking options, and the best insulation facility, which are usually the parameters of defining a good and a bad electric smoker.
There were some other things of note, too (which I have covered in the Newbies guide to electric smoker shopping) for which overspending on them at all is loss occurred.
I have chosen the 5 most leading and best quality smoker brands and their products available in the market, which I have been following for months now.
By reading the buyer reviews and also by measuring their rate of sales per week, I have come up with the top 5 top quality and bestselling electric smokers on the market.
Masterbuilt 20070910 30-Inch Black Electric Digital Smoker, Top Controller
When looking at the Masterbuilt 20070910, the first impression is that it is well-built; it is a rough and tough looking piece of equipment. The design is certainly pleasing, but the real question is: Is it what you are looking for to handle your extra catch?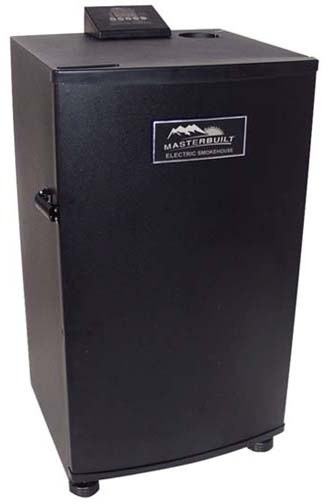 What does this digital electric smoker have to offer you?
This Masterbuilt 30 electric smoker is very user friendly with a side-loading feature for incorporating wood chips so you can add your own smoky flavor. Beginners and Seasoned smokers alike will find this model as easy to use as a common charcoal grill with the high-end digital temperature and timer controls of every smoke master's dreams.
What do you get with this smoker?
The 730 square inches of the smoking area is divided into four separate removable cooking racks. This allows you to incorporate larger fare such as turkey or hanging sausage links. The convenient timer has an auto-shutoff feature to ensure that your bounty is prepared to the utmost of perfection. When you order one of these electric smokers, you will also receive:
Push-button controls
Energy efficient with 100-percent insulation
Powder-coated steel body
Removable drip pan
Top air damper
Sideloading for chips
800-watt heating element
Cooks from 100 to 275 degrees
When compared to other models of this type such as the Smoke Hollow Electric Smoker, the Masterbuilt digital smoker delivers a lower amount of power. However, the cooking area that you are able to utilize is much larger. Overall, this electric smoker is perfect for you if you are looking for a large unit that will smoke at a low and consistent temperature without constant supervision.
The Pros and Cons of this electric smoker
Pros:
The removable steel racks are great for a variety of smoking options.
The digital thermometer and timer allow you to set your criteria and relax while the smoker does the work.
The 0-24 hour timer allows you the freedom from constantly checking.
Cons:
The temperature only goes to 275 degrees. This may cause issues when working with poultry as it may need to finish in an oven.
The power cord for this model is not extremely long. An additional heavy-duty outdoor-rated extension cord will solve the problem.
The Masterbuilt 20070910 takes some time to heat up to optimal temperature for even smoking. Time, patience, and starting the smoker early will help with these issues.
What are the special Features and Benefits of this model?
This Masterbuilt smoker has many features that make smoking your bounty as easy as "shooting fish in a barrel." The features include:
Removable drip pan to catch the rendered fat and moisture from the bounty being smoked.
Removable wire racks to accommodate larger bounty.
Programmable temperature to ensure even smoking.
Programmable timer to allow for worry-free timing.
Sideloading of wood chips keeps the heat and smoke in the cooker while maintaining an adequate smoke level.
800 Watts of power offers plenty of power for all types of smoking desires.
If you are looking for a smoker with more space to expand your wood smoking interests and the ease of digital technology, the Masterbuilt 30 electric smoker is the perfect choice for you. The removable racks and side loading features give you the freedom to experiment with nearly any type of smoking you can dream up. If the thought of enjoying a chunk of smoked salmon or deer jerky has your mouth-watering.
Bradley Digital 4-Rack Smoker

Review



The thought of a slow and low cooked brisket or stack of ribs can make nearly anyone's mouth water. Most people only enjoy this type of delicacy when going out to eat without realizing that they can create their own delicious smoked meats, fish, poultry, and more.
The best way to achieve this smoky nirvana is with a smoker that is able to deliver a great smoked product with ease and efficiency. The Bradley Digital 4-Rack Smoker promises to deliver all of this and more to your wood smoking world.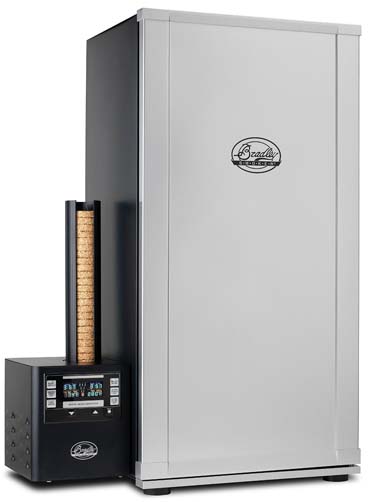 What do you need to consider when purchasing this wood smoker?
One thing to consider when investing in a smoker is the amount of smoking room that you will need. This Bradley electric smoker measures 17 x 14 x 31 inches which offer 520 square inches of cooking area to accommodate large items, many items, or a variety of items.
Another consideration is the ability to monitor the time, temperature, and smoke level via a remote control which gives you the ability to control the process without having to open the unit and lose precious heat and smoke. The 125 Watt smoking element allows for a 320-degree maximum temperature and is perfect for slow smoking large portions of beef, pork, or poultry.
What accessories will you get with this smoker?
The Bradley electric smoker comes delivered with 4 wire racks, a drip tray, a biscuit pan, a water pan, and a built-in internal thermometer. There is also a removable generator provided with this unit.
What are the Pros and Cons of the Bradley Digital 4 Rack Smoker?
Pros:
The digital controls give you command over a variety of aspects of your smoking process. This allows you to experiment and expand your smoking techniques for a variety of products.
The removable racks and trays are dishwasher safe which makes for a quick and easy clean-up.
The Powder Epoxy Steel on the exterior of this smoker protects it from the elements and the Stainless Steel interior offers easy clean-up.
Cons:
There is not a viewing window to monitor the progress of the product. Time and experience will help you to narrow down the cooking times for different products.
If the digital unit is damaged it will need to be replaced. This can be done through the manufacturer.
Interference with the cooking cycle has been reported to cause the internal temperature to drop dramatically. Keeping the unit closed and the smoke flowing is the key to success with this issue.
This unit burns little wood biscuits which must be heated on a separate plate and replaced. The unit holds eight hours worth of wood chips and additional chips can be purchased from the manufacturer.
What are the unique features and benefits of this smoker?
This attractive smoking unit offers such quality aspects as:
The coated steel exterior makes this unit weather worthy for outdoor use.
Accessories-The removable trays and shelves allow for easy and fast cleanup.
Easy Loading-User friendly wood chip loading style.
Easy Clean-up-The stainless steel interior and racks make clean-up a breeze.
When compared to other similar models such as the Smoke-It Electric Smoker, this model is found to be larger with a more sophisticated monitoring system.
The Bradley electric smoker is the answer to the call for a quality smoker that you can load and monitor from afar for up to eight hours between reloading chips. This sophisticated remote controlled unit is simple to operate with easy clean-up features. If you are looking for the best electric smoker under 400, then this is THE smoker for you.
Masterbuilt 20075315 Front Controller Smoker with Viewing Window and RF Remote Control, 40-Inch
Adding the element of an aromatic wood to the curing process of food has been practiced for many years by myself and countless other avid smoking enthusiasts.
Fortunately for the frequent smoker, the Masterbuilt 20075315 electric smoker claims to make this an easy process. This powerful smoker is perfect for creating personalized smoked products in the convenience of your own home, yard, patio, or garage.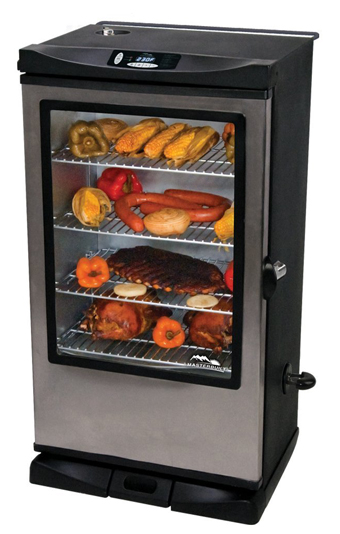 What does this smoker offer you?
There are many considerations for attaining a wood smoker such as size, power, and style. This model can handle large amounts of the product whether it be one large item or several small parts. The Masterbuilt 40 electric smoker offers a whopping 1200 Watts of power for the most intense smoking. When it comes to style, this glass and stainless steel combination is the perfect example of an industrial and elegance meeting to create a stunning wood-burning unit.
What is included with this smoker?
The Masterbuilt 40 electric smoker with a window comes with a number of included items such as a drip pan, four removable racks, remote control, internal lighting, and wheels for easy transportation. This electric smoker is designed for smoking enthusiasts from beginners to the most experienced.
What are the Pros and Cons of this smoker?
Pros:
Glass door-The glass door allows for optimum viewing without having to open the unit.
Remote control-The remote abilities of this unit allow you to monitor many aspects of the smoking process including the temperature of meat and machine, cooking time, lighting, and on/off functions.
Removable racks-The smoking space can be increased by removing or rearranging the racks.
Cons:
Requires 2 AAA batteries-Replacing old batteries with new ones may solve performance issues.
Remote control repairs-If there is an issue with the remote control malfunctioning, it requires a new unit from the manufacturer.
Assembly-This unit does require some simple assembly.
What are the unique features and benefits of this smoker?
This sleek-looking Masterbuilt 40 electric smoker is designed for the utmost ease for the user. The mobile drip tray, racks, water pan, and thermometer are dishwasher safe for quick cleaning.
The 975 square inches of the smoking area can take on even the largest of the game such as turkeys, venison, or pork. The internal light allows you to see your products and view the smoking process. In comparison to other models of smoker such as the Smoke Hollow Electric Smoker, the Masterbuilt 20075315 offers more internal cooking area and a unique drip catching system as well as an innovative chip loading system.
In the search for a smoker that can deliver the space and the power to take on even the largest of game smoking tasks, the Masterbuilt electric smoker is the answer to the meat smoker's prayers.
With remote control operation, plenty of power, and modern styling, this smoker is the answer to the call for a functional smoker that is easy to use and beautiful addition to any outdoor area.
Char-Broil Deluxe Digital Electric Smoker, 725 Square Inch
If the smoker you are seeking needs to fit into an already existing outdoor space or if you are creating an outdoor living area, the appliances you choose can be the factor between success and failure.
If you are interested in adding a wood smoker to your arsenal of kitchen and outdoor cooking appliances, the Char-Broil deluxe digital electric smoker could end your searching.
This stylish and easy to use smoker will enhance any decor and elevate any smoke-filled menu. Both new and old practicing smokers will find this electric smoker easy to use and simple to clean.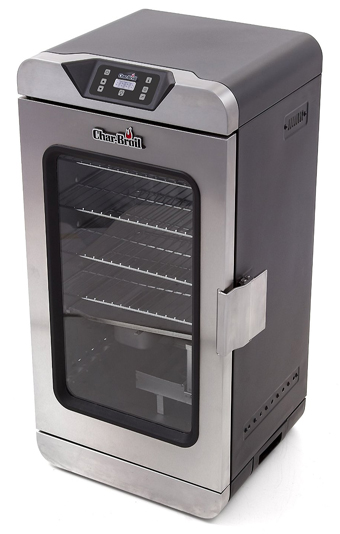 What special qualities does this smoker offer?
The capacity, mobility, and power of the electric smoker are all important things to take notice of when you are in need of a large smoker for frequently large quantities of product. The Char-Broil deluxe digital electric smoker promises to provide you with the freedom to move the unit to new spaces via the convenient handle and wheels. Once in place, this smoker will deliver 1200 Watts of power for cold or hot smoking.
What will you get with this smoker?
When you use the Char-Broil electric smoker you will get a wood smoking unit that can deliver a deep smoked product. Regardless of whether you are a novice or a seasoned smoker, the digital controls mean that you can control the heat and temperature of your smoking goods without fail and from afar. This smoker comes with a cover to keep it safe from the outdoor elements.
What are the Pros and Cons of this model?
Pros:
Warming feature-This useful feature will automatically engage to keep your food warm when it has reached your pre-set desired temperature or time setting.
Removable temperature gauge-This will allow you to monitor the temperature of the product as it cooks if you desire. This is especially handy for attaining perfect internal cooking temperatures of smoking products.
Mobility handle-This handy feature gives you the freedom to take your smoker virtually anywhere. With a slight elevation of the handle, the wheels on the back of the unit make the mobility of this char broil deluxe digital electric smoker an easy task.
Grease tray-Keeping this unit clean is easy with the help of the included grease tray that catches all of the nasty and unhealthy fat and oils. It is easy to remove and with a quick washing, it is ready to take on your next smoking job.
Cons:
Auto feature-Using this timing method may result in undercooked foods and may require the re-start of the smoker for additional smoking time.
Chip monitoring-Because this model uses wood chips to deliver the smoke flavor to the food, it is necessary to constantly monitor and address the refilling of the wood supply.
Drip tray-It may be necessary to empty the drip tray more than once during smoking. Occasional observation and a quick empty will solve the problem.
What are the unique features and benefits of this smoker?
The Char-Broil electric smoker has a double-wall construction that includes a layer of insulation to keep in the smoke and essential heat. The secure door locking system creates a super air-tight seal. The dual-tone finish is perfect for high-profile areas such as outdoor kitchens and decorative living spaces.
These great features are included without compromising the huge 725 square inch capacity. The removable racks are adaptable for the largest smoking creations. When comparing this model to similar products such as the Smokin-It Electric Smoker, the large size and sturdy construction of this Char-Broil electric smoker makes it stand out from the competition.
When searching for a large electric smoker that will fit in with a variety of decors and modern styles, the Char-Broil deluxe digital electric smoker will fit in perfectly. With a dual-tone exterior and an adaptable and adjustable interior, this model of the electric smoker is powerful, mobile, and digitally controlled to ensure that you achieve the best quality smoked goods.
Char-Broil Vertical Electric Smoker

For those enthusiasts who like to take their smoking skills "outside of the box," this smoker offers the opportunity to utilize a wide range of cooking methods and techniques. There are many ways to preserve and store food that you harvest from nature such as meats, fish, poultry, cheese, and even vegetables.
Everyone from young to old or newbie to a professional chef can join in the crusade of creating delicious smoked goods with their bounty from the lake or the woods. This Char-Broil vertical electric smoker promises to have it all covered with smoke.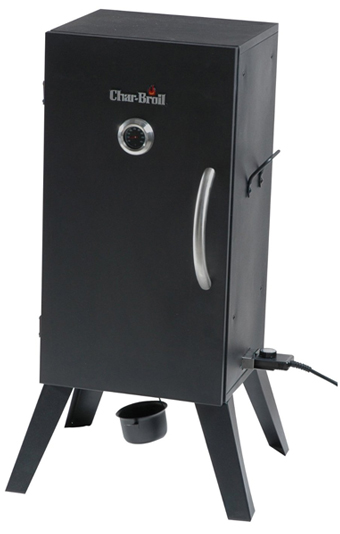 What are the important things to notice on this wood smoker?
When investing in a wood smoker it is important to take three things into consideration: mobility, functionality, and cooking space. The Char-Broil smoker offers both new and seasoned users 505 square inches of the interior smoking area. For those times when a larger unit is necessary, the three removable racks will accommodate to take in larger meats and poultry. When it comes to mobility, this unit does not come with wheels, however, the 50-pound weight of the unit makes it relatively easy to re-locate if necessary.
What kind of performance will you get with this smoker?
When you own this Char-Broil smoker you will have one of the lightest yet powerful wood smokers available. The understated design and porcelain-coated body give the impression that your smoking is no joke. Housed within is a 1,500 Watt heating element that will heat both the water and the wood to create a heavy aromatic smoking environment.
What are the Pros and Cons of this model?
Pros:
Double-wall construction keeps the heat and smoke inside the unit.
Chrome-plated handle is useful for moving the unit with ease.
The temperature gauge on the door is easy to read.
Cons:
If the temperature of the smoker experiences large fluctuations in temperature, it may be necessary to replace the heating element.
This smoker may be vulnerable to temperature fluctuations due to ill-fitting doors. Repairing the seal on the door will solve the problem.
The temperature of the unit may be slow to heal but holds a steady temperature when at the desired temperature. Patience is necessary to overcome this issue.
What are the unique features and benefits of this smoker?
This model of Char-Broil electric smoker has many mentionable items such as the 3 adjustable and removable shelves to optimize the smoking area. It has the temperature gauge securely mounted in the lid so you will have an accurate account of the temperature of your smoking.
The double-insulated walls offer you even heat with minimal thermal loss. The removable water pan and wood chip tray allow for easy and quick start-ups and cleanups.
When compared to other models such as the Masterbuilt Electric Smoker, this model is smaller and more suited to the enthusiast who is looking for a "hobby" sized smoker.
When it comes to finding a quality smoker that offers a durable and versatile model, the Char-Broil vertical electric smoker leaves the competition in a cloud of smoke. This smoker has a sleek design, simple operating and cleans up processes, plenty of power, and room for a number of smoking projects.
Smokin-It Electric Smoker Review
This is the most modern smoker on the market. Not only does the design have some new style to it, but the electronics are really developed too.
If you are looking for the best electric meat smoker or the best electric fish smoker, then this is the one for you.
From professional to newbies, everyone loves this smoker, as it is easy to install and easier to use.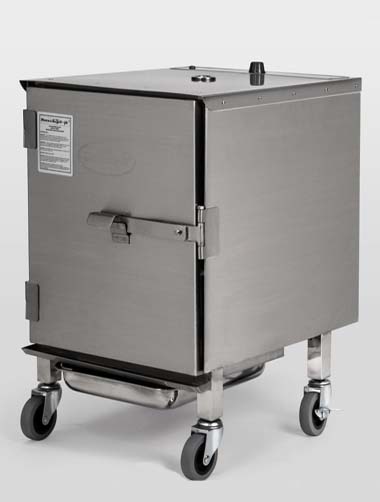 The Smokin-it electric smoker can cook up to 22 pounds of meat or fish per batch. It has a great 350-watt heat system that is designed to cook meat or a steak thoroughly.
Many people have complained about not having the same classic smoker cooking quality with new smokers, but in the case of this modern smoker it is not true at all.
The 8 amps and 120 volts single phase helps to put the smoke into your fish or meat so that you can get the best-smoked delicacy for you and your guests.
The stainless steel construction stays really cool while you cook your food. The cooking area has 2 removable stainless steel shelves with spacious grids which do not block the heat or the smoke to get into the food at all.
The smoker comes pre-assembled and has 4 casters which help to move the heavy smoker from one place to the other.
The cooking cabinet is really spacious and the diameter does not take up any unnecessary space. You can easily use the smoker for indoor and outdoor cooking, as it is easy to move from one place to another.
The electric cord that comes with it also helps a lot in this case.
5 Things You Should Know While Shopping For The Best Electric Smokers
Buying a smoker is never easy. If you want to cook your ribs and your fish with perfection every time, then buying any smoker will not seal the deal for you at all. You have to know all the bits and pieces of a smoker before going for it.
But who has the time to learn all that? So I have gathered some of the best options which you should have in an electric smoker that will keep you from buying low-quality smokers.
So, here are the top 5 things that you should know to make the perfect and most well thought purchasing decision while shopping for the best electric smoker for you.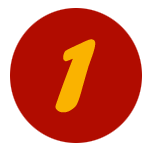 Temperature control
Most of the electric smokers use thermostats to keep an eye on the inner temperature of the smoker.
Recently some of the smokers in the market are also using rheostat to measure the heat of the cooking chamber.
While cooking, as you know timing and temperature is really crucial. According to some of the well explained electric smoker reviews, the smokers with thermostats have been given maximum thumbs up.
So, if you want to buy the best of the best from the professional smokers industry, then you should go for the one with a thermostat on it.
Many people how are used to the classic smokers wonder, are electric smokers good? My answer is yes, they are. They are easy to use and they do not require extra work like gathering wood and charcoal, which is a must for a classic smoker.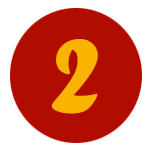 Installed Caveats
Caveats are the small ventilation system which is installed in the combustion chamber of the smoker to let the smoke and heat escape the chamber.
Normally a wood and charcoal smoker does not have ventilation installed in it, so it leaves a smokier flavor in the food than its electric counterpart.
An electric smoker has less airflow in the chamber, as there is no need for combustion to cook food within an electric smoker. An electric smoker also helps to cook a solid meal without leaving unwanted burn spots on the meat or on the fish.
So, if you are trying to decide if a gas or electric smoker which is better for cooking a tasty and visually attractive meal, then I would vote for the electric one.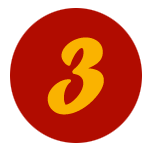 Heat structure
You should not buy a smoker without getting really comfortable with its heat structure. The heat structure or a heat flow is based on how heat is distributed within the temperature chamber of a smoker.
Professional smokers, which are mostly used by pro cooks usually have heat flow coming down and sideways, which helps to cook your meals faster.
But if you are thinking of getting the electric meat smoker or the fish smoker, then you should go for the smoker which has an upward heat flow which is generated from below the heating furnace. It will help to cook your meat and your fish with perfection and will also help your meal to have the smoky and crunchy flavor which you desire.
Most of the leading smokers, especially the ones I have mentioned as the best selling electric smokers, have an installed e-smoker temperature control facility which will be really helpful for a newbie to become skilled in cooking smoky delicacies in no time.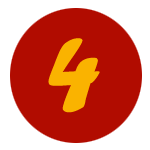 Layer structure
Smokers from various brands have various kinds of layers or trays installed within them. Some of them will have a stainless steel structure, while others will have formulated steel racks within them.
While making an educated decision about which one to go for, you should choose the smoker which has thick grids which are also straight. Such a design will prove to be really helpful if you do not have the luxury to spend a lot of electric smoker cooking times.
If you want to get the best taste of smoky fish or meat, always go for the smokers with hollow grids. Recently I have seen some of the smokers which have box-shaped layers on their cooking chamber, which are not good for smoking food at all.
These designs block the smoky flavor from getting into the food and it also prevents food from getting cooked to perfection. If you look into a popular electric smoker cookbook you will find that they have also suggested buying smokers with hollow grids, mostly with straight, thick, long bars.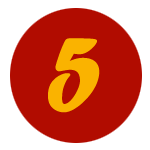 Use of resources
As you know, electric smokers run on electricity, not on wood or charcoal. So if you do not want to collect wood and charcoal to cook food with a smoker, then the best way would be to go for an electric smoker instead of a traditional one.
I have collected a wonderful video that covers some important information about the best electric smoker out in the market – cheers
Extra Tips to Keep in Mind
I really appreciate your presence on my site, so here is a secret for you that I do not share in any other electric smoker review or cookware critique site.
While most of the old-timers love to buy their cookware from local markets, most of the smart buyers are now leaning towards buying their cookware online. Especially when it comes to buying critical things like an electric smoker, I strongly recommend you to order them online.
As a special treat, I have gathered the best discount coupons for the bestselling electric smokers in the market, which you will find right beneath the short description section of the electric smokers mentioned above.