How to Clean BBQ Electric Smoker | Masterbuilt – Brinkmann
How To Clean Bbq Smoker
An Electric smoker is the best in convenience for anyone who loves to smoke meat.
If you are one of those who are truly serious, however about barbecuing and grilling, then one of the most important things you need to remember is to take extra good care of your electric smoker and keep a clean bbq.
In this way you will have a better return on your investment, and you will be making sure that the smoker will last many years, rather than just a few. Some smokers will require you to season them, while others need repair periodically plus a paint job, but all smokers have to be cleaned on a regular basis, and after each use is best.
 Seasoning Your Smoker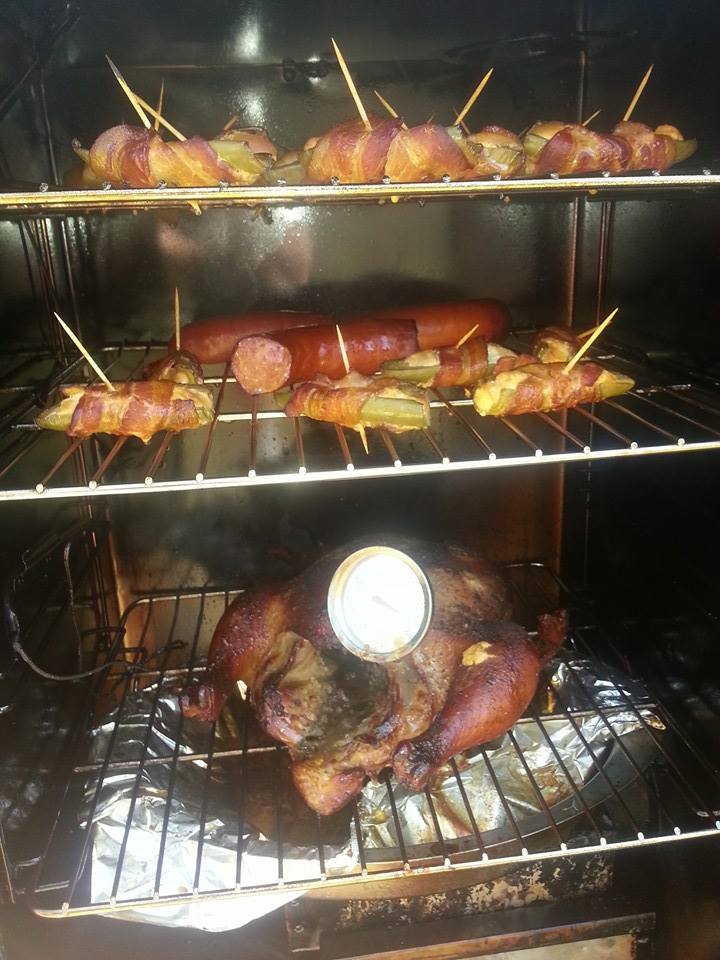 Most electric smokers have to be seasoned from time to time to operate properly.
Most major Brands come with instructions in their manual on how to do this, so you should read it carefully so you know the best method for getting your smoker prepared.
Seasoning your smoker is much like seasoning a cast iron pan, and all you'll need to do is coat it with oil on the inside.
It doesn't really matter what kind of oil you use, so you don't have to worry about spending a bunch of money on more expensive oil. You can even use bacon grease if you have it.
Once the oil is over the whole surface of the smoker, you want to heat it to make sure it gets into any imperfections or places that are hard to reach.
This makes a barrier against any water and stops any rusting. You should heat it to about two hundred fifty to two hundred seventy-five degrees Fahrenheit to get a clean smoker.
Anything higher than this can cause the paint to come off.
When Your Smoker Doesn't Require Seasoning
Many electric smokers don't require seasoning, but you still need to know how to clean bbq smoker.
You can start out by heating your smoker to about two hundred fifty degrees Fahrenheit.
Don't forget to use smoke whether you are seasoning or not, since the residue will give you a protective layer on the unit which will prevent it from rusting.
You also have to take care of ventilation so that the fire will keep going and be watchful for formations of creosote.
This is quite an awful substance which is found many times in electric grills that have been ventilated poorly, and you want to do everything you can to avoid it.
Maintain Protective Coating
It is very important to keep a clean smoker and to maintain the protective coating once you have it. You can do so by keeping any ashes and food build up out of your smoker, but do not scrub it down to the metal.
You might have to clean it out totally every once in a while and also season it again, but make sure to maintain the oil and smoky surface in the unit to avoid any rusting.
The ash cannot sit in the smoker for any long periods since it will absorb water and oil, and will cause your fire box to rust.
Grease will also trap any water against the metal, so any big deposits have to be scraped out gently. You will find that keeping these things in mind are some of the best way to clean grill and keep it running properly.
Dealing with Rust
One of the biggest annoyances of knowing how to clean an electric smoker is dealing with any rust that pops up. It is detrimental that you keep an eye on your smokehouse to make sure there is no rust forming. However, if you do find some, there are steps you can take.
Scrub out the rust with a wire brush or even sandpaper
Wipe away any remaining dust or debris
Use a good quality heat resistant barbeque paint right away – do not skimp on price here
Oil all door handles, hinges, etc. to prevent rust
Cleaning the Grates
You can easily clean any grates in your smoker by placing them in your kitchen oven and putting it on the self-cleaning cycle.
This will bring the oven up to about nine hundred degrees and it will burn off every bit of grease and soot in just a few hours, leaving you with grates that are shiny and new looking again.
You can spray the grates with a bit of cooking spray before use to make cleanup in the future much easier and to prevent the meat from sticking to them.
Protecting Your Investment
You no doubt, like many others, have spent a good bit of money to acquire your smoker and there isn't any reason why you can't have it running like new for many years to come.
Your smoker is the key to that amazing smoky food that you love so much, so it should be a priority of yours to take great care of it and keep a clean bbq at all times.
Regularly cleaning it will make sure that your smoker will stay in great condition and even get better as it ages.
The biggest secret to amazing barbeque is by knowing your equipment from top to bottom.
You should treat your smoker like an investment. You've invested plenty of time into it besides money, and it is for this reason you deserve to have a smoker which will give you that delicious smoky flavor for years to come.