Guide to Choose the Best Grill Light For Night Time BBQ
Do you have trouble trying to cook at night time or in the dark on your grill or smoker?
Tired of having to carry a flashlight or your phone to use to check your food or temperatures during the cooking process at night?
Well, then you need the best grill light you can find to help solve these problems. There are many different types of grill lights that have several different functions to help you in making sure you will never have to worry about cooking at night again.
In this article, we will cover these features and aide you in what to look for when purchasing a grill light. We will also go over several of the best bbq grill lights on the market today to figure which is the best.
How to choose the best waterproof grill light?
When choosing a grill or smoker light, you need to figure out what you will want to use one for. Try and figure out the areas you want to be illuminated while cooking. Some grill lights can withstand higher temperatures and able to be put inside of grills and smokers, so that may be a great option to look for.
Maybe you want your grill light to go the extra mile and provide you with something else other than just illumination.
Many different lights offer several different features available, so make sure and find one that best fits your wants and needs.
What are the advantages of having a grill light?
This advantage goes without saying that it is much easier to cook, grill or smoke at night or in the dark when you have well-illuminated working and prepping area.
This will eliminate the need for a flashlight or phone when you need to add more wood to the smoker or just lift the lid to check on your food that is cooking.
Having a well-lit area will also help you to read the temperatures of the smoker or meat.
Try and avoid cooking in the dark, it can not only mess up your cooking process but also become very dangerous if you cannot see what you are doing when working with very hot temperatures and sharp objects.
Some grill lights also have special features with them like cooldown fans, thermometers, radios or Bluetooth speakers. These features all come in handy at one time or another when grilling outside.
Things to look for when buying a grill light?
Make sure to figure out what your wants and needs are in a grill light and cross-reference those needs with different types of models to find one that best suits you and your needs.
Do the research and make an educated buy based on what the grill light reviews say.
Try to get a grill light that is not made of cheap or poor-quality materials, so it doesn't break or burn out right away. The best thing to look for when buying a grill light is a warranty or at least a manufacturer guarantee.
Another factor to consider when buying a grill light is the weather conditions that may be. Make sure to find a grill light that will hold up to strong winds.
Also, try to find a grill light that is waterproof to protect it from rain and water splashing that may occur.
If you have trouble illuminating the entire cooking area try to find a grill light that is easily adjustable or moveable.
Some grill lights allow you to move the light around while it is still attached to the grill or cooking area.
What's the best way to use this product?
This all depends on what you need to use the grill light for. Some are intended for use outside the smoker and can clip on to not just the smoker but just about anything near the cooking area.
Make sure and use the product you buy according to the instructions of use.
Using a non- heat resistant light inside a smoker will end up badly, permanently damaging your light and possibly ruining your food in the process.
Make sure to buy a light that is powerful enough to illuminate the entire cooking area to avoid buying multiple lights.
Sorbus BBQ Grill Light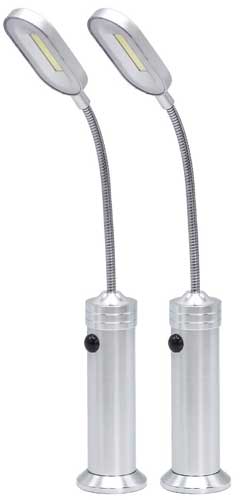 This grill light would be a great addition to your barbeque arsenal due to the fact it is extremely affordable. Not only that but it has some cool features that most other grill lights just don't have.
This powerful LED grill light is built with a magnetic base that allows you to attach it to any metal surface with ease. Move it around from place to place very easily instead of having to anchor it down to one stationary place with a clamp or clip.
The grill light is powered by 3 AAA batteries which are supposed to provide enough light for up to 20 plus hours of usage.
The intensity of the brightness is also adjustable going up to 200 lumens. Some people have said to use the best batteries to can find because the light will die sooner with inferior batteries in place.
The light is fairly small in size with only a 4" body and 10 "moveable and retractable gooseneck. The neck may be moved in any direction at any time with ease giving you a 360-degree radius of lighting options.
While this is a great product, it is made of cheap metals and plastic, and there have been complaints of it breaking or losing part very easily.
There is also not a very tight or lined seal on the light making it not waterproof. So, you will have to take this light indoors after every time you cook and not use it when it's raining.
Pros:
Moveable and retractable neck for 360-degree lighting options
Adjustable brightness of 200 lumens
Magnetic base for attaching to metal objects
Cons:
Made of poor-quality material like plastic
Not sealed tightly making it non-water resistant
Batteries not included, and cheaper brands may cause the light to die faster
Zeust #1 Barbecue Grill Light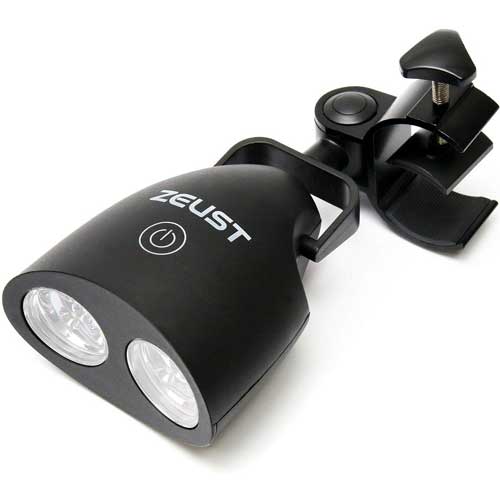 This grill light is a little heavier duty than most other grill lights. It is constructed of durable nylon cast fiber making much stronger than most lights.
It also is attached to the grill with a clamp that has been complained about breaking to easily when tightened.
The light consists of 10 super bright LED lights that produce a maximum luminous flux of 105 lumens.
This feature also allows you to adjust the brightness of the light.
While some lights may take a while to heat up to their full brightness in very cold or frigid temperatures, this light does the exact opposite, being able to work in just about any condition.
On the bad side, this light is not waterproof, but only water resistant, which can prove difficult for any griller. Water may collect within the lenses, and in time the light will stop working. However, this light does come with a Lifetime warranty, so if it breaks, just send it back in and get a new one.
Pros:
Ten ultra bright LED lights producing 105 adjustable lumens of light intensity
Well-constructed of durable nylon cast fiber
Able to operate at full capacity in very low outdoor temperatures
Cons:
Not water-proof
Faulty or poor material clamps
Authentic Grilluminator BBQ Grill Light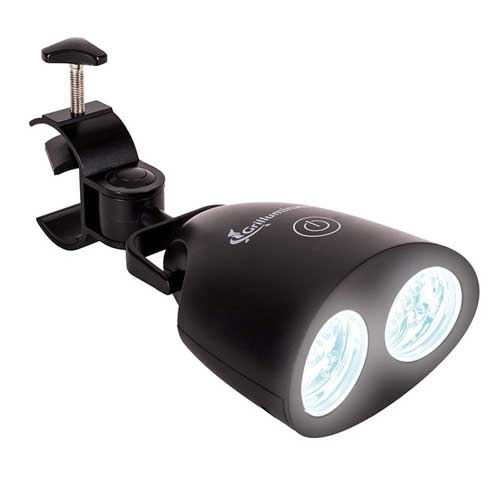 Here is another very similar grill light to the last one in almost every aspect except for a few. While the other light is very affordable, the light is even cheaper making it a great choice.
The light consists of 10 ultra-bright LED lights that are powered by 3 AAA batteries that happen to come included this time around.
The lights produce 100 lumens of brightness and also have a lifespan of 20,000 hours of use before burning out.
The light is clamped on most grills, while others have had problems attaching it to fit their grills.
Once attached the light can be moved vertically up and down to adjust it to where you want your light to point.
And once again, this light is also not water-proof but only water-resistant meaning it could break in a week or a year depends on the weather it is subjected to. However, it does come with a lifetime warranty for easy replacement.
Pros:
20,000 hours of usage for the LED bulbs
The vertical light adjustment feature
Cons:
Not waterproof
Poorly constructed of cheap materials
Cuisinart CGL-330 Grilluminate Expanding LED Grill Light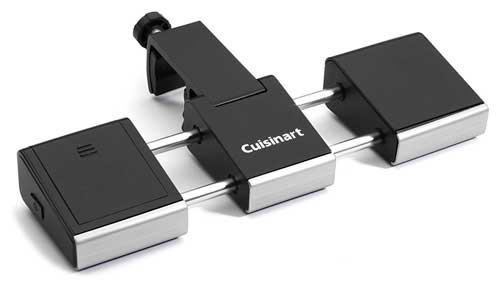 Here is another grill light with some of the same ups and downs as the other, but with a much different design and couple additional features.
This very affordable grill light may be made of cheaper quality materials but is easily removed and placed on most grills with a squeezable clamp that can lock in place.
The light consists of 9 ultra bright LED lights capable of providing 10,000 hours of usage. It is also powered by 3 AAA batteries which are not included with the original purchase.
The coolest feature of this model is its ability to extend and retract from side to side, providing more well-lit cooking space. The light retracts to 7 ½ inches long and extends to 11 ½ inches longs. Make sure to keep well care of this light as it may break fairly easily if not treated with proper care.
It is also not waterproof or water resistant for that matter, so make sure and take this light inside with you whenever done using it. This light also does not come with a warranty so buy at your own risk and if you do make sure you take care of it so that it may last you longer.
Pros:
Nine ultra bright LED lights providing 10,000 hours of usage
Extendable and retractable light bar
The squeezable clamp that fits most grills
Cons:
Not waterproof or water resistant
Made of cheap building materials
No warranty
Light It! By Fulcrum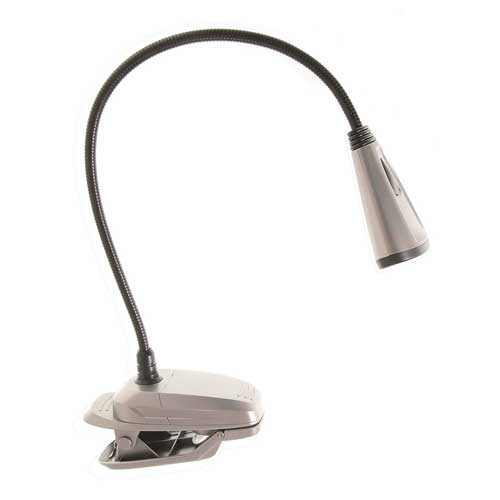 This last grill light is similar to the first we reviewed, but much more affordable and there are reasons why.
This light also has a moveable and adjustable 7-inch gooseneck making it easy to achieve 360-degree lighting options.
However, the materials used to build this light are merely made of plastic so they may break or melt when placed on hot surfaces. The light also attached to most grills and surface with a squeezable clamp that is easily placed or removed.
One of the best features on this grill light is the actual light itself.
It has a super bright LED bulb that uses floodlight technology to spread the light out giving a wider well-lit based area.
The bulb is said to mention to provide at least 100,000 hours of usage, which is higher than any other grill light available. The light is powered by 3 AAA batteries which are sad, not included.
While this light may be weather resistant, it is still not water-proof which is ideal for outdoor cooking.
So, be sure to bring this light in the house or to a dry area when done the cooking and never use it in the rain because there is no warranty to aide you in getting a replacement.
This is a great option for a grill light if you are on a budget and don't need something big a bulky taking up space.
Pros:
100,000 hours of LED bulb usage
7 inch retractable and moveable gooseneck for 360-degree lighting options
Easy to place and remove, squeezable clamp
Advanced floodlight technology for larger well-lit areas
Cons:
No warranty or batteries included
Not waterproof
Constructed of cheap or low-quality materials like plastic
---
What kind of power sources do grill lights use?
For the most part, most lights are either battery operated or power by electricity through a power cord.
Make sure you buy the kind that will fit around your cooking area nicely.
Some models are solar powered, but this can become not as reliable on cloudy days or very long cooking times at night when you really need to see.
How long does grill light last?
As long as you take proper care of the grill light and clean it regularly, it will last a lifetime.
If you plan on leaving the light outside, make sure it is resistant to weather elements like water, dust and wind otherwise you might be looking for a new grill light soon.
The bulbs vary in lumens, intensity, and longevity regarding the light you purchase, but don't expect to be changing the bulbs on them any more often than you would change a light bulb in your house.
How do I attach my grill light to my cooking area?
Each grill light will differ from the next regarding placement. Some can just clip onto any surface whether it is extremely hot or cold while others may need to be mounted on a specific area using a clamp.
Some grill lights are easily moveable rather than just stationary using a magnet which can be placed on any metal surface.
The magnets will lose intensity over time which is why most of these models are also able to be mounted on the grill or handles.
Are grill lights rechargeable?
While most models of grill lights work off of electricity or batteries, they are not rechargeable.
However, there may be a few models that do have a power cell that can be recharged.
Make sure to look for this quality specifically when purchasing one as most grill light cannot recharge.
You can always recharge your batteries if they are rechargeable and you have a charging station as well.
---
So, in conclusion, what is the best magnetic grill light available on the market today? It all depends on your needs and wants, but for us, we suggest you invest in a Sorbus BBQ Grill Light.
This is a great buy if you just need to see what you are cooking.
It is great for the retractable and moveable gooseneck that allows 360-degree lighting options as well as that large amount of light it puts out for being such a small light.
The lights also have magnetic bases and can be attached with ease to any metal surface, or if you prefer, they are very lightweight for handheld use.
If you want something with a bit more brightness, added special features or strong materials, then make sure to do your research and look around before you make the wrong choice. Happy hunting!