What Is The Best Smoker Box For A Gas Grill? Guide & Reviews (2020)
Do you primarily cook and grill using a propane grill?
Are you left with the feeling of wanting more flavor out of your food?
Maybe you want to be able to incorporate smoky flavors into your meat when you are grilling but don't own a smoker or the proper materials.
Well, the best solution to these problems is a smoker box that you can place in your grill filled with wood chips to bring you other flavors and levels of smoke.
In this article, we will cover the basic needs of a smoker box as well as cover some of the best smoker boxes for propane grills available on the market today to determine which will be the best selection for you.
How to choose the best smoker box for a gas grill?
When choosing the best smoker box for a propane grill, you want to make sure you find a model that is well constructed of quality materials that will withstand very high temperatures without falling apart or breaking.
Make sure to find one that will not rust if it comes in contact with water or fluids from the meat that is cooking.
Make sure to find a smoker box that will fit inside your grill nicely without taking up too much space but still being able to emit enough smoke to fill the chamber of the propane grill.
What are the advantages of having a smoke box?
Owning and using a smoker box for your propane grill is an advantage in itself. While you do not need one to operate a propane grill, the smoker box brings smoky flavors to the table that a propane grill cannot support.
Throwing woodchips directly on to your propane grill heat source is not only not recommended but is highly dangerous, and you could end up dealing with catastrophic failures in the future.
Propane grills are not intended for other heat sources to be just thrown in, which is why a smoker box comes in handy when you want to use any other heat source.
The smoker box will contain the wood chips you want to add without harming the propane grill. It will also include the ash created from the wood chips so you won't have to clean up a huge mess afterward.
Things to look for when buying a smoker box for a gas grill?
Make sure the smoker box is well constructed of durable materials and is water resistant. This will ensure the longevity of your smoker box's lifespan.
Make sure the smoker box can withstand the high temperatures you plan on using it with otherwise you may be dealing with breakages and repairs.
A warranty of the smoker box is always recommended with the original purchase or at the very least a manufacturer guarantee.
What's the best way to use a smoker box for a gas grill?
Almost all models across the board suggest that you fill your smoker box with the allotted amount of wood chips and close the lid.
Place the smoker box directly on top the propane burners or near them and turn the grill on.
The propane burners will now not only heat the grill but also burn the wood chips slowly, adding a great smoky flavor of dense smoke to the inside chamber as well as the food inside.
Address the controversy
Many people will say that if you want to smoke meat correctly, then you need to use a smoker or a machine that is built to smoke foods accurately.Well not everyone has that luxury or doesn't want to own multiple cooking machines to complete this process.The smoker box allows you to smoke your foods when you want to and then when you want to go back to usual grilling and cooking, don't add the smoker box to the grill. Easy as pie!
>>> Best Smoker Box For Gas Grill Reviews <<<
Char-Broil Cast Iron Smoker Box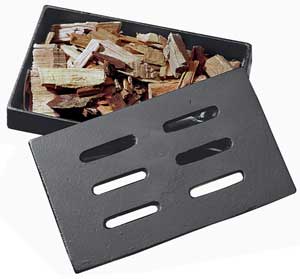 We start off the list with a great smoker box from a very trusted name in the grilling world, Char-Broil. Not only is the smoker box made from a reliable source, but it is also very affordable costing almost next to nothing.
The smoker box is constructed of very heavy-duty cast iron with holes on the bottom of the box and large slots on the top of the box to create a very even air flow for ventilation purposes causing the smoke produced from the box to pass right over your food.
The lid is also made of cast iron but doesn't attach or lock into place, but this is not needed because this product is very heavy and the weight of the lid holds it in place.
This smoker box will work with just about any grill with any temperature range. The smoker box will retain heat very well, but there have been complaints about a significant amount of time it takes for the box to heat up before beginning to smoke.
This can be problematic if you are wanting to grill fast and use a small amount of fuel per cooking.
The smoker box will hold any wood chips you want to place in them whether they are fresh or soaked in liquids. Either way, this smoker box will prevent the wood chips inside from catching fire creating an even and denser smoke for your grill.
Pros:
Able to retain heat very well
strong, durable cast iron build
Works well with any grill and any wood chips
Cons:
Very heavy in weight
Takes a long time for the box to heat up and even longer to cool down
The lid does not lock or latch into place
Smoker Box for BBQ Grill Wood Chips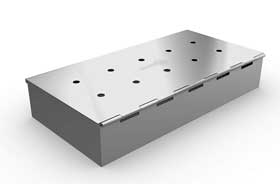 This is a great option to use as a smoker box for your grill. This smoker box is moderately priced but not too expensive, but the probably one of the best things about this smoker box is that it comes with a lifetime warranty allowing you to replace or refund your smoker box at any time you wish if you are not satisfied with it.
The smoker box is well constructed of durable and strong stainless steel that has been reinforced with an extra layer of stainless steel to prevent any destruction or warping to the box at very high temperatures. The stainless-steel construction also makes cleaning the box very easy and prevents any rust from liquid or weather conditions.
The smoker box also has a slotted lid with a locking latch and hinges for easy access to the inside. The box contains no holes on the bottom of the box as to prevent the wood chips from catching fire.
Any type of wood chips may be used in the smoker box and on any type of grill, but it is recommended only to use dry wood chips. You may use liquid-soaked wood chips in the box, but this will cause the wood chips to take much longer to start smoking which could cause some problems.
The box is much larger than most smoker boxes which are good for being able to place a larger amount of wood chips in the vessel. However, it may not fit inside some of the smaller model grills.
Pros:
Well-constructed of double pane stainless steel
Hinged lid with locking latch for easy access
Rust-proof and easy cleaning
Cons:
Large in size and may not fit in all smaller grills
Takes longer to heat up soaked wood chips
Cuisinart CSB-156 Wood Chip Smoker Box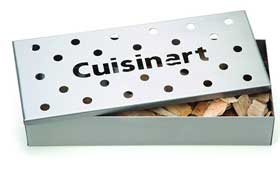 This is a very affordable model of a smoker box which may be the right one for you if you are not looking for anything too special.
This smoker box is constructed of durable steel with a solid plate bottom and a slotted latching lid to allow smoke to pass through into the grill. The smoker box is a much smaller sized box than the others coming in at 9×4" making it perfect to fit in just about any type of grill or size.
However, this can be unfortunate due to the amount of wood chips that will fit inside the box.
This box does have some problems though. While it is on the cheaper side, this means the materials don't hold up either. The box will rust somewhat easily and may become damaged or warped over time due to its flimsy one-layer construction.
The box also is said not to be able to hold heat very well making it difficult for the box to reach a temperature to burn the wood within or even hold temperature to keep the wood chips smoking.
Pros:
Very small in size and able to fit any sized grill
Works in both propane and charcoal grills
Latching lid with open slots for smoking
Cons:
Smoker box does not hold a fair amount of wood chips
Smoker box will rust easily and may become damaged over time
Not able to reach or hold very high temperatures needed for smoking
Charcoal Companion Stainless Steel V-Shape Smoker Box For Gas Grill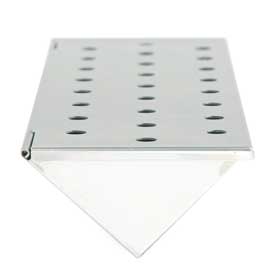 This is a very cool and interpretative type of smoker box that thinks "outside of the box." The smoker box is also very affordable so you won't have to break the bank to acquire one.
What sets this smoker box apart from the rest is the unique shape of the smoker box. It's is constructed of stainless steel and into the shape of a "V" which allows you to place it between the flame deflector plates within the grill. This ensures the box to stay steady in one place and receive the maximum amount of heat possible from the grill.
However, the box is not made of thick enough steel to withstand very high temperatures and may fall apart or become damaged in the process.
You will want to use it at lower temperatures to prevent this from happening. The smoker box is also said to rust very quickly so make sure to keep it clean and away from weather or any liquids nearby.
The box is equipped with a slotted lid with hinges for easy access to the inside, and the actual smoker box is 14 inches long making it able to hold a large amount of wood chips at once but also making it very difficult to fit in most smaller grills.
Pros:
Patented, unique "V" shape construction to fit in between grill deflectors
Large box able to hold a big amount of wood chips
Easy to clean, ashes stay contained in the box
Hinged lid for easy access
Cons:
Smoker box may rust easily
Very thin metal construction falls apart at high temperatures
Not rust resistant
Grillaholics Smoker Box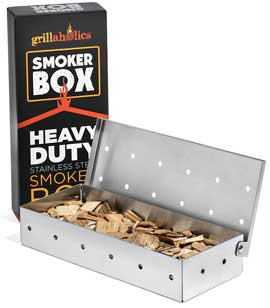 Here is another smoker box that is priced too high considering the aspects of the smoker box and the problems that come with it.
The smoker box is of average size making it able to hold a decent amount of wood chips within it and also fit in just about any grill. There is also a slotted lid with hinges attached to it for easy access.
While this box does create a larger amount of smoke due to its thinner steel construction, this also means the wood chips will burn up faster.
However, there have been complaints that the box takes too long to heat up to burn the wood chips or won't even reach the temperature.
The box is also constructed poorly which causes it to fall apart of becoming unrepairable damaged at very high temperatures.
The box is also not rust-proof so make sure to keep it away from liquids nearby and weather conditions.
While this smoker box may be great for some users, we don't recommend it due to the simple fact that many other models will work better, last longer and at a more affordable price.
Pros:
Holds a decent amount of wood chips
Creates a denser amount of smoke
Hinged lid for easy access
Cons:
Poorly constructed of thin steel causing damages during usage
Not rust-proof
Uses a larger amount of wood chips during the smoking process
Does not reach or hold high temperatures very well
Can you use a smoker box on a charcoal grill?
Yes, absolutely. Just fill the smoker box with wood chips and place it directly on the already hot and lit charcoal to use it just as you would using a propane grill.
There will not be much different. However, if you are using charcoal, you may not even need to use a smoker box for wood chips.
Generally, you can place the wood chips directly on the hot coals to bring flavor to the grill without using a smoker box. But if you prefer to use one, you may also do that.
Should you soak wood chips before smoking?
This all depends on your preference. The point of soaking wood chips before using them in a grill or smoker is so that they last longer and burn slower.
This will also emit more smoke and moisture within the grill or smoker.
Wood chips can be used just plain, straight out of the bag without being soaked in a liquid, but if you want to stretch the wood chips out and make them last longer, soak them in water, alcohol or any other safe liquid for at least 1 hour before using them in the smoker or grill.
What is a cast iron smoker box?
A cast iron smoker box is simply stated in the title. It is a smoker box that is constructed of cast iron. Many people prefer a cast iron smoker box over other constructed material boxes because of several reasons.
The main reason is that cast iron can hold up to extremely high temperatures making it able to hold up in even the hottest smokers and grills.
The box will not warp over time, and the cast iron will also evenly distribute the heat over the box, creating a more even cook for your food items.
While the cast iron box may be better for these reasons, they tend to be heavier, have a higher price tag and also since they retain heat very well, they will take a long time to cool down before being able to remove them and clean them or the grill.
Can you put charcoal in a gas grill?
This is usually not recommended to do unless the grill specifies you can do so.
Plus, it is not necessary to use a secondary heat source like charcoal in a gas grill.
If you want to add the flavor you get from charcoal into your barbeque or foods, then use a smoker box and fill them with likeminded flavored wood chips to help accent the meat just as charcoal would.
So, in conclusion, what is the best smoker box for a gas grill? There should be no question about it that the winner is the Smoker Box for BBQ Grill Wood Chips. The main reason this is the clear winner is that it comes with a lifetime warranty making it able to be exchanged, returned or refunded at any time you are unsatisfied with the product. That is a no-brainer right there.
The box is also the best stainless-steel construction of all the stainless-steel boxes available with its double pane thickness build preventing it from damages or warping at extremely high temperatures.
The box is also rust-proof and contains the ashes within the box well with a locking latched lid that is hinged for easy access and easy cleaning. The box will also work in any type of grill and use any type of wood. This smoker box is versatile and sure to make your experience with smoker boxes incredible easy and seamless.