5 Best Sausage Stuffer | Making Your Own Link Sausage
If an avid hunter lives in your household, you may want to consider purchasing a sausage stuffer and converting some of the extra meat into sausages instead of burgers.
Or,
if you prefer to know what is inside the casing, you, too, may be in the market for a sausage stuffer.
A sausage stuffer looks a bit like an old-fashioned meat grinder, but instead of discharging the meat into a bowl, the ground meat exits through a tube into a sausage casing.
What Should A Buyer Consider Before Purchasing A Sausage Stuffer?
As with any purchase, do your homework.

Research everything you can find on the market about sausage stuffers.

What are they made of?
What extras do they have?
Which of those extras do you absolutely want and which could you do without?

Now compare price issues.

What is the difference in price?
What is responsible for the difference?
If it is some of the extras you looked at, are they extras you absolutely want or can do without?

Narrow the options and extras to the price point you want to stay within, and purchase the sausage stuffer with the most extras within your budget.
The IEC System of Conformity Assessment Schemes for Electrotechnical Equipment and Components (IECEE) is the only organization recognized for checking how well a product conforms to the current safety standards. Look for assurances that the sausage stuffer has been verified and recognized by the IECEE.
"Authentic" versus "Efficient" (also known as manual versus electric). This is your first decision. Some people feel the only way to make authentic sausage is to use a manual stuffer; however, the electric stuffer makes the work much easier and you can produce larger batches more quickly.
Of all the equipment used in a household, kitchen equipment takes the greatest abuse and is most likely to break, so look for a product with at least a one-year warranty.
What attempts has the manufacturer made to assure the product is safe?
What is the product's track record as far as reliability?
Does this sausage stuffer come with a warranty?

If so, how long and covering what?
Do you have to pay for the warranty?
If so, does the cost make sense compared to the purchase price?
How much maintenance will this sausage stuffer require?
Is it easy to clean after use?
Are replacement parts going to be hard or easy to obtain?
Advantages of Sausage Stuffers
Probably the biggest advantage to making your own sausage is you will never again eat "mystery meat." You will know exactly what is in the sausage you prepare.
Who knows how long processed sausages have been around waiting to be picked up at the supermarket? Your sausages will be fresher and much tastier.
Bacteria grows quickly in open air, so the more quickly the meat enters the casing, the less chance for bacteria to grow.
Prerequisites to Using a Sausage Stuffer
Before you begin stuffing your sausage meat, be sure to fry a sample after you finish adding seasonings. If you find the seasonings are not to your satisfaction, you are still able to correct it. It would be difficult to add or subtract seasoning once it's been made into sausage links.
Check the consistency and quantity of cure salts used. You may want to add a little water to the mixture.
The flavor is enriched when the seasoned meat mixture sits in the refrigerator the night before stuffing. Remove from the refrigerator and allow it to stand at room temperature for 20 minutes before you plan to begin stuffing.
Feeding the meat into hog casings can be difficult, but a little vegetable oil on the exit tube will make it much easier. Your hands may be slippery, but paper towels can help get traction on the casing. Just be careful not to tear the casing.
Collagen casings do not have to be soaked in water, but they will be easier to use in the morning if they rest in the refrigerator overnight.
It's personal preference whether you fill the continuous casing or twist the casing into links as each link is complete. It's usually easiest to cook them full length and then cut them after cooking.
Types of Sausage Stuffers
Your ground meat has been seasoned and you are ready to stuff the sausage casings. You have a choice of three types of sausage stuffers:
Horn Sausage Stuffers
Horn sausage stuffers, traditionally made from cast iron covered with tin or chrome, are manually operated. Several stainless steel models are now available. Horn stuffers are usually purchased by people who are new to making their own sausage because the horn sausage stuffer is limited to production of only three to five pounds of sausage.
Horizontal Sausage Stuffers
Horizontal Sausage Stuffers come in both manual and electric models. A piston-like cylinder, mounted horizontally, is used to hold the seasoned ground meat. One minor inconvenience when using a manual horizontal stuffer is the hand crank is longer than the cylinder. In order to obtain adequate clearance to complete a full rotation, it must hang over the edge of the table or counter. This means the base of the stuffer must be clamped or bolted down for stability. Horizontal sausage stuffers have a capacity of five to twenty pounds.
Vertical Sausage Stuffers
Beginners and professionals alike prefer Vertical Sausage Stuffers over horizontal and horn stuffers. As with horizontal sausage stuffers, vertical stuffers come in both manual and electric models. Electric vertical models are usually larger capacity, commercial grade units. Vertical sausage stuffers also use a large piston-like cylinder to hold the seasoned ground meat, but the stuffing cylinder is mounted vertically. The capacities of vertical stuffers range from five to fifteen pounds.
Using a Sausage Stuffer
Regardless of which type of stuffer you choose, the steps to using them are nearly the same.
Before starting, to make sliding the sausage casings on and off more efficient, wipe the stuffer tube with a paper towel soaked with a little vegetable oil.
To keep sausage from pressing out the other end of the casing, you must use something to bind it off. Some of the more popular methods include tying the end with butcher twine, using a hog ring, or tying a knot in the casing itself. However, that will waste a length of the casing.
Next, poke several air escape holes in the end of the casing using a sausage pricker to allow any air trapped inside the casing to escape.
While stuffing the sausage, you will be performing two functions. The first is controlling the hand crank or electric switch on the stuffer. This step determines the speed and flow of the sausage through the machine. The second function is to watch as the sausage fills the casing to make sure it continues to move along and to watch for air pockets and pricking the casing as needed to release trapped air. From that description, you can probably tell it is much easier to have help when you plan to stuff sausages.
A foot switch may make it possible to use an electric sausage stuffer alone because you still have both hands free to watch the sausage casing as it fills with ground meat.
As the meat continues through the machine, the sausage gets longer. When it reaches your desired link length, you may stop and pinch the casing at that point, twirl the sausage a few times, and make a link. Continue stuffing until you reach another link length and repeat the process; but, this time, turn the link in the opposite direction. Changing the direction will keep the links from unraveling. If you twist them all in the same direction, each sausage link will un-do the one before it.
Another method of stuffing is to fill the entire casing and only close off at each end, forming a long coil. You can keep your sausage in one long casing, or you can twist and form links in the coil at this point. Just remember to twist the next link in the opposite direction.
All that's left at this point is the cooking, and the method will depend on the recipe you are following.
Best Sausage Stuffer Reviews
LEM Products 606SS 5-Pound Stainless Steel Vertical Sausage Stuffer
The latest version of this five-pound vertical sausage stuffer has added a protective gear box over its all-metal gears, offering protection for both the gears and the food being processed. Clamps provide stability while in use on a table or counter top.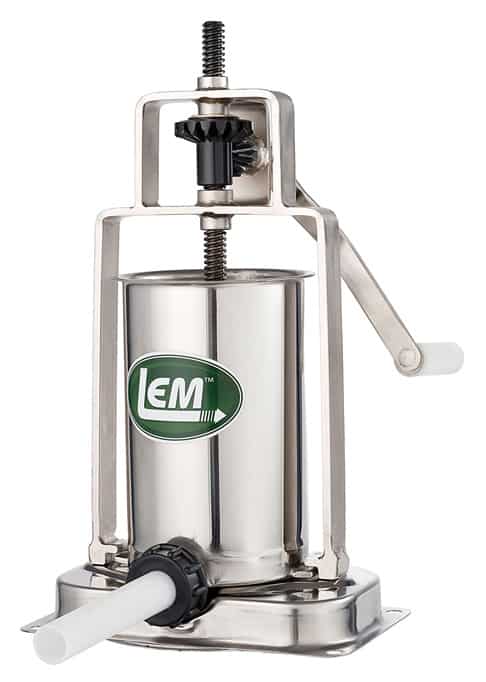 <<< Purchase This Product on Amazon >>>
Pros
Specifications:
17 x 9 x 10 inches
9.8 lbs.
Two clamps secure the stainless steel base during use
Metal gears
Made of steel, not plastic, so will clean more easily
Cylinder may be removed to clean and fill
Plastic piston with handy air-release valve vents air out the top of the stuffer so no air enters the sausage casing
Four stuffing tubes with 1 9/16" base:
3/8" (purchase separately)
1/2"
3/4″
1"
VIVO Sausage Stuffer Vertical Stainless Steel 3L/7LB 5-7 Pound Meat Filler
The VIVO V003 includes a two-speed gear system which produces greater pressing power and more quickly raises the plunger and reloads the cylinder. The unit is easily disassembled for cleaning,and the cylinder tilts back to fill with your favorite meat. Four plastic nozzles are included.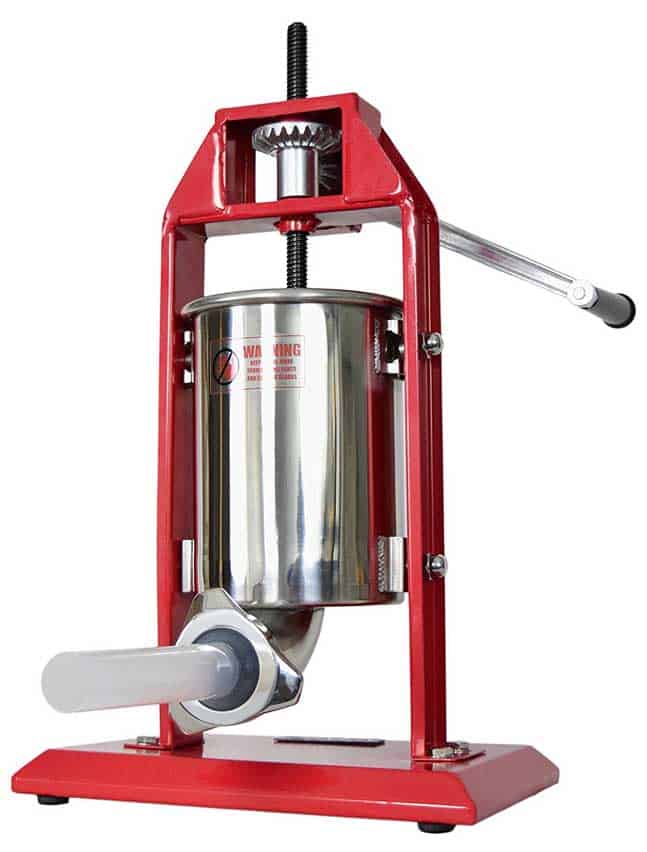 <<< Purchase This Product on Amazon >>>
Pros
Specifications:
20.4 x 12.7 x 10 inches
14.8 pounds
Stainless steel cylinder
Metal base
Metal gears and pistons
Cylinder tilts back for easy filling
Air release valve in piston allows air to escape
4 Plastic Nozzles:
10 mm (0.4 in.)
20 mm (0.79 in.)
30 mm (1.18 in.)
40 mm (1.57 in.)
Disassembles for easy cleaning
Cons
Handle falls off
No way to secure to the tabletop – needs clamps or bolts
The nylon tube may come with burrs that catch on the casings
Hakka 7 Lb/3 L Sausage Stuffer 2 Speed Stainless Steel Vertical 5-7 Lb Sausage Maker
Recent upgrades to the Hakka seven-pound sausage stuffer have made creating your own sausage more fun than work. These upgrades include a tilting cylinder for easy filling, an air release valve on the metal piston, and a redesigned stainless steel frame that locks the meat cylinder, reducing cylinder movement while you use the stuffer.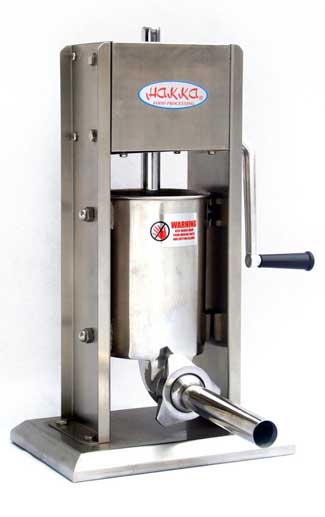 <<< Purchase This Product on Amazon >>>
Pros 
Specifications:
11.8 x 9 x 20.4 inches
19.8 pounds
Two fill-rate system
Two speeds
Stainless steel base plate
Stainless steel cylinder
Stainless steel stuffing tubes
Stainless steel canister
Air release valve included in the piston
Cons
There is no reverse stop on the handle, and the pressure when meat is loaded may cause the handle to hit you if you let go of it.
Super Deal Heavy Duty 5L Vertical Sausage Stuffer, (Sausage Filler 5L)
The Heavy Duty 5L eleven-pound meat maker features a removable cylinder for quick and easy filling and cleaning. What sets the 5L apart from its competitors is its unique design which makes it equally user-friendly for both left- and right-handed users.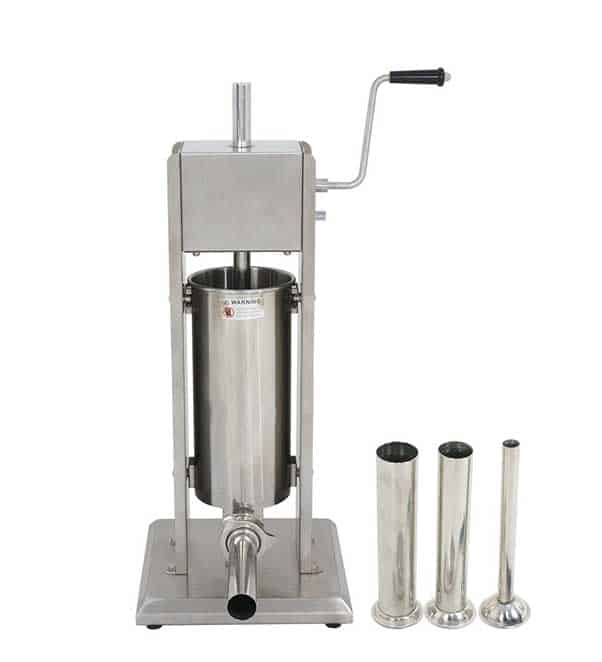 <<< Purchase This Product on Amazon >>>
Pros
Specifications:
27.6 x 14.7 x 12 inches
25.4 pounds
Stainless steel body
Metal gears and piston rod
Removable cylinder for easy filling and cleaning
Sturdy base plate with four rubber feet
4 Nozzles:
2/3"
3/4"
1 1/4″
1 1/2″
Works both right- and left-handed
Locking nut prevents leaking
Two stuffing speeds
Can be mounted to the table
Kitchener 5-lb. Stainless Steel Sausage Stuffer
The Kitchener five-pound stainless steel sausage stuffer features a removable stainless steel cylinder and base for easy filling and fast cleaning. The piston is made from food-grade plastic and is easy to clean. A built-in stainless steel pressure relief valve helps prevent casing blowouts. The Kitchener's upright canister accommodates the same capacity as its horizontal counterparts using a fraction of the counter space.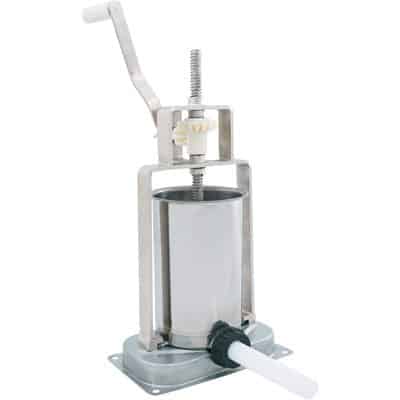 <<< Purchase This Product on Amazon >>>
Pros
Specifications:
11 pounds
Removable stainless steel cylinder
Stainless steel base
Easy filling and cleaning
Plastic piston – food grade, easy to clean, built-in stainless steel pressure relief valve
Upright canister takes up less space
Welded steel frame
May attach to counter using predrilled holes
Three nozzles:
1/2"
7/8"
1"
Cons
Plastic gears break
Threaded insert on main vertical gear sheds metal shavings
Conclusion
The five sausage stuffers reviewed above are all excellent products, making it difficult to choose a clear winner. However, the all-stainless-steel construction and left- and right-handed design of the Super Deal Heavy Duty 5L Vertical Sausage Stuffer makes it my first choice for best sausage stuffer.
The LEM Products 606SS 5-Pound Stainless Steel Vertical Sausage Stuffer ran a close second in my opinion.
What put the 5L ahead of the 606SS for me were the stainless steel nozzles. Plastic is subject to burring, and a burr in the wrong place on the nozzle can tear the casings, so I prefer stainless steel over plastic.