Our Favorite Bradley 6 Rack Digital Smoker Review
The Answer to All of Your Cookout Woes
Having a smoker cooker should be an essential part of your summer cookout tools. If you've never had a smoker, you are seriously missing out on a lot of flavorful, mouthwatering meats all summer long (and even during other seasons).
As you will see from this Bradley 6 Rack Digital smoker review, many people who own this cooker just love how well it smokes all kinds of different meats and How easy it is to use.
This is a prime example of a smoker that can turn your summer cookouts into the talk of every family get together.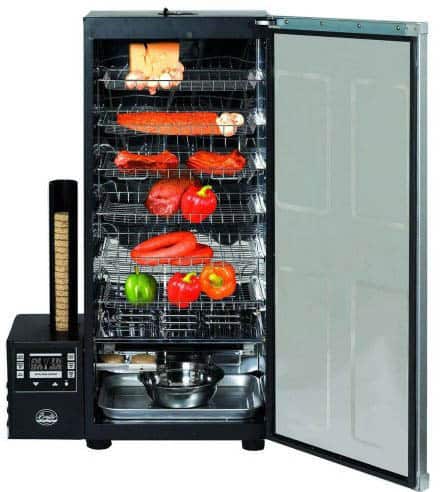 Bradley digital smoker : Have Enough Smoked Meats for Everyone
This large capacity digital smoker makes smoking lots of meat or larger items such as a turkey simple and effortless.
You'll have plenty of meat for any large gathering, so you won't have to worry about not having enough for your hungry crowd.
This smoker also has a few different functions as opposed to other smoker cookers, which you will find out more about below.
Bradley digital smoker :Plenty of Room and Easy to Use

This electric digital smoker has a large enough capacity to hold all six racks that it comes with full of various meats to appeal to your fancies.
The racks measure eleven by thirteen inches each, and the smoker itself is just slightly larger than a small fridge with a 3,432 cubic-inch volume.
You can easily smoke, roast and barbeque plenty of food in this larger sized smoker cooker.
It is self-contained and easy to use, burning Bradley favor bisquettes for twenty minutes at a temperature which is consistent in the smoke generator.
Then it will automatically advance them off of the burner.
With this reasonable and consistent temperature, the smoker totally eliminates the need for high-temperature gases, resins and acids which can distort the flavor or appearance of smoked foods.
With this clean process of cooking your food, you'll experience no aftertaste, so all you and your guests will taste is the natural flavors of the wonderful food you smoked.
Bradley digital smoker : Different Methods of Cooking
The Bradley Original Electric Smoker gives you two smoking methods – hot or cold.
With the hot smoking, temperatures will usually range from 180 to 250 degrees Fahrenheit, which makes it perfect for cooking meats and fish.
The smoking time will vary depending on what you are making and what you want to accomplish.
With cold smoking, it is a longer process that is many times combined with salt-curing foods such as bacon, ham and some methods of smoking fish.
This digital smoker also works great as a slow roasting oven or slower cooker.
Bradley digital smoker : Looks and Construction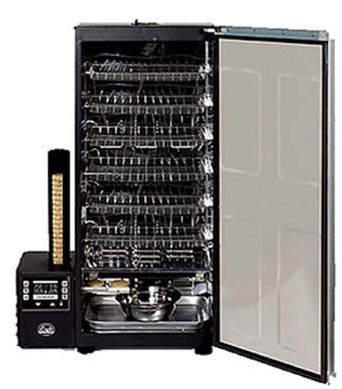 This electric digital smoker has a polished stainless-steel interior and is made of powder epoxy steel.
This helps the cooker to hold up to heavy duty use. Inside, there is a traditional hot plate that holds a very low heating element, plus an elaborate feeding system for the bisquettes that are cube shaped instead of sawdust which would be too fine.
These bisquettes are the key to clean smoke since they do not burn down to ash, need very little energy and can be put out easily in the integrated water bath.
The smoker also has a secondary heating element which controls the temperature in the smokehouse.
The cooker includes a 500 watt cooking element, a 125 watt smoking element, a temperature max of 280 degrees, a drip bowl, rectangular tray and a recipe booklet.
It weighs in at just around seventy-one pounds and comes with a twelve month manufacturer's warranty.
This large sized smoker carries with it many benefits, including various cook times and great construction.
Let's take a look at just a few of the benefits you'll enjoy with this machine:
Pros of the Bradley 6 Rack Digital Smoker
Very easy to set up
Even smoking throughout the meat
Easy, set it and forget it technology
Easy for even beginners to use and have great results
Large capacity lets you smoke plenty of meats at once
Easy temperature control
Cons of the Bradley 6 Rack Digital Smoker
A temperature swing that may not be desirable
Digital thermostat can read high due to its placement about the heating element
A heating element that is under powered for a six rack unit
Bradley digital smoker :The Verdict
As you can see from this Bradley 6 Rack Digital Smoker review, many people are quite pleased with this smoker cooker.
They love how well this cooker works to smoke their food evenly and wonderfully.
Many feel the cooker does just what it was made to do, and that it is a good deal for your money.
The bisquettes that this smoker uses provide a very nice flavor to your food that many people are very pleased with and find that they make the meat quite delicious.
As some users say, this unit will make you proud to own it, and to tell others about it.
As we all lead busy lives, many customers love the fact that you can set this cooker and then leave it totally unattended and still get a wonderful completed project in return.
Others were unhappy with what they thought to be poorer construction, with non-stainless steel and plastic parts, including the door hinges being made of plastic.
They couldn't get the smoker to get past 180 degrees Fahrenheit, and were not happy with this unit at all in general.
Some users could not get the cooker to cook well at all, and felt that the heating element it comes with was not powerful enough for this large of a unit.
This Bradley 6 Rack Digital Smoker review highlights a lot of the great features of this smoker cooker.
It also has many great reviews from consumers who have already purchased it, and it also has some people who had some negative experiences with this cooker.
Therefore, this cooker could be a great investment for some, but take the time to review it and make your own decision before purchasing it.