Brinkmann 810 Gourmet Red Electric Smoker & Cover Review
With summertime coming, the thoughts of outdoor cookouts are filling everyone's heads.
Grilling is a favorite pastime during this time of the year, and smoking has also been becoming more and more popular.
Both methods of outdoor cooking create a delicious variety of foods that everyone loves.
Being able to cook out is the perfect excuse to invite your friends and family over to have a get together, maybe several times during the summer months.
Most people have had fresh grilled meats and veggies, but not everyone has tried freshly smoked meats.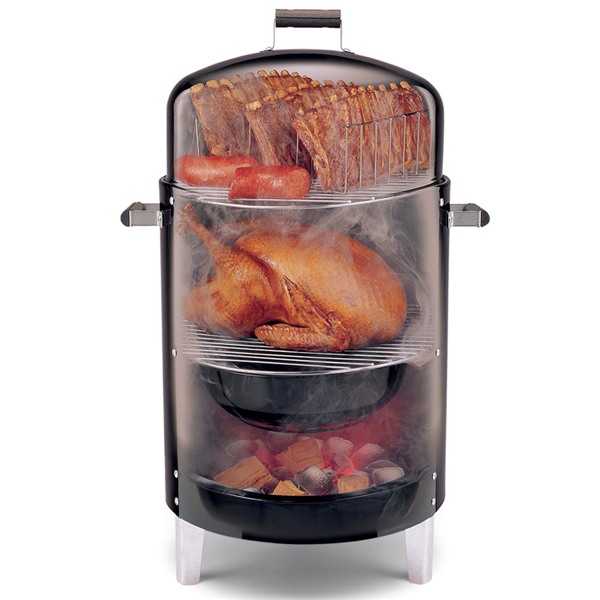 If you've had the pleasure of smoking your own meat and enjoying it with your family or friends, you know how great it really tastes.
Nothing is like it, and having your own smoker cooker in your backyard is simply priceless.
There is so much that you can make in a smoker cooker, from sausages, to a whole turkey, to jerky and fish.
All of these and more come out tasting so good, and if you are someone who loves both grilled and smoked foods, you will definitely want to take a look at this Brinkmann gourmet electric smoker.
What's So Special About This Brinkmann 810?
This Brinkmann 810 model is the company's top quality double electric smoker and grill.
IT comes with two steel cooking grills which are plated in chrome, and has a fifty pound capacity for cooking.
You'll also find a convenient, front door which is hinged so you can easily access the water pan, and it includes wooden handles which will stay cool so there is no worry of accidentally burning your hands.

The pan in the base holds lava rocks and a 1500 watt heating element.
It can change over easily to a grill that sits at waist level.
This red electric smoker also comes with an outdoor cover made of heavy duty vinyl.
Main Features of Brinkmann Electric Smoker

Two steel cooking grills which are chrome-plated and can hold up to fifty pounds of food
1500 watt heating element in base with lava rocks
Dome lid
Door with front hinges
Steel water pan which is porcelain coated
Vinyl cover
Wooden handles which stay cool to the touch
Grill and electric smoker combo that is UL-listed
The Verdict Of Brinkmann Electric Smoker
As you'll see from this Brinkmann electric smoker review, customers seem to be overall very pleased with their purchase.
For the price, they think it is a great value and the unit has worked well for them in both smoking and grilling different foods.
They do advise to make sure that it is well vented while you are smoking anything, as it produces a great amount of smoke when used correctly.
If you need a big smoke, you may need to add ore wood depending on the size of the chunks, but make sure as the manual states that none of the wood chunks are in contact with the heater.
The fact that this combo is nice and lightweight was another plus that people loved.
It is also really Easy to use, as all you need to do is put in the wood that has been soaked, put in your meat and plug it in.
The double racks it includes are each cable of holding a large turkey and the bowl for fluids is nice and large.
Even when it is Cold the electric works great and it won't run out in the middle of a long cooking session, like propane could.
The unit is also Easy to clean when you are done cooking and the side door for adding extra chunks of wood is very handy.
How to setup Brinkmann 810 Gourmet Red Electric Smoker
If for some reason you do not get the cover with this grill and smoker combo, users advise you to get one of the Brinkmann grill covers that are available so that your unit can be protected from the elements when it is not in use.
They also stated that assembly was very straightforward and just required a screwdriver and pliers.
It was also recommended that you season the smoker before using it by coating the inside with some vegetable oil and running the unit for about three hours.
Some users were not that happy with the construction of the unit, however for the price most people were not concerned with it at all.
This Brinkmann electric gourmet smoker is a great choice if you are looking for a combination grill and smoker that is of good quality and makes all kinds of wonderful smoked and grilled meats.