CDN Digital Cooking Thermometer | Fish , BBQ
Digital Cooking Thermometer For Fish & BBQ
This CDN Thermometer is great for any thin cuts of meat, poultry or fish you might have to grill or cook.
It is very simple to use and has a lot of great features include a 6 second response, large digits, data-hold, and a temperature guide on the sheath.
It is NSF certified, shatterproof, and has food-safe a ABS plastic with BioCote, a stainless steel stem, on/off button, field calibration, automatic shutoff after 10 minutes and the sheath can be used as an extension to the handle.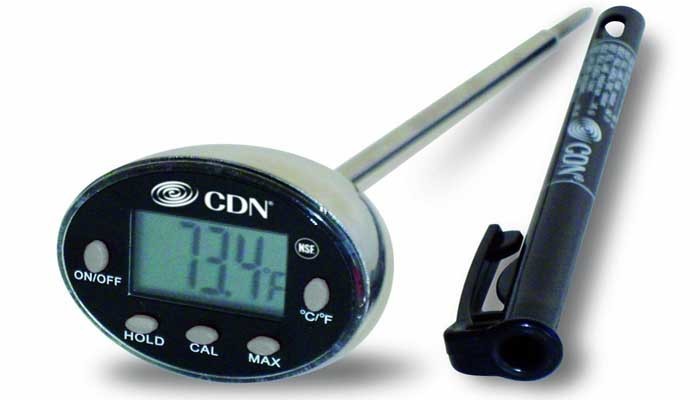 <<< Purchase This Product on Amazon>>>
You can mount this digital cooking thermometer right to our pocket with the handy clip that is included as well.
You'll be able to select either Fahrenheit or Celsius with the press of a button, so you can choose whichever temperature reading you are comfortable with.
Main Features Of Cdn Thermometer



Stainless steel stem 5 inches long which can take a reading in 6-8 seconds
Stainless steel housing which surrounds the digital readout
Quick-read thermometer that is pocket sized and great for measuring temperatures in thin cuts of meat, poultry or fish
A temperature range of -40 to 450 degrees Fahrenheit
Uses one LR44 battery which is included
This little BBQ thermometer is great for keeping track of the temperature of your thin cuts of meat during cooking, but remember to remove it after reading the temperature, as it is not a leave in type of thermometer.
It is not only easy to use, but also easy to clean – just wipe it clean and return it to its cover after use.
Calibration is easy for this thermometer as well so you can be using it in no time to get fast and accurate readings. When you need a small fish thermometer for a decent price, this thermometer is a great go to.