Maverick Wireless Meat Thermometer ET 733 For Smokers
This Maverick Thermometer ET733 is the latest version of the long-range wireless thermometer that the company has introduced.
It is a third-generation version that brings you a bunch of new features so your grilling and cooking is even easier and more precise.
Maverick Remote Smoker Meat Thermometer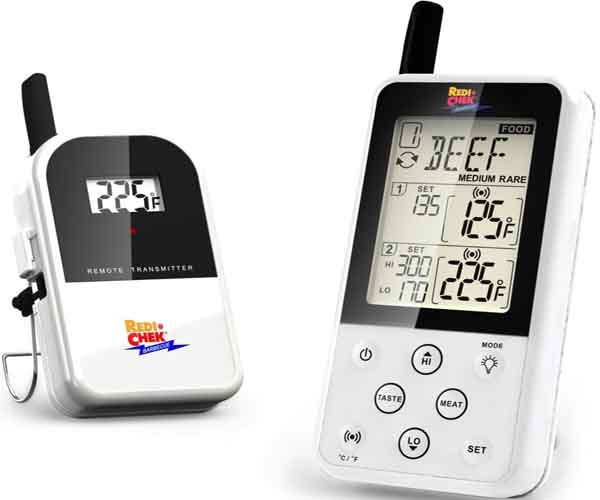 > Purchase This Product on Amazon <
This Maverick Remote smoker meat thermometer is special because it comes with a wireless receiver that you can clip to your belt or fit in your pocket so that you can wirelessly monitor your BBQ from inside or across the yard.
While your meat is cooking, the receiver uses the probe to keep you updated in real time.
It will display at all times the current temperature of the meat, and it can sound an alarm at any temperature you want so you can get a perfect cook each time.
New features that you can enjoy with this digital grill thermometer include a larger screen than previous versions.
This thermometer will also display both the target-low and target-high temperatures.
The two probes that come with the thermometer can monitor two individual things simultaneously.
Plus, setting your target temperatures is even easier with a new preset temperatures for six different meats and nine different game meats including veal, beef, pork, lamb, turkey and chicken, elk, deer, buffalo, moose, rabbit, duck, boar, fish and bird.
This makes a perfect turkey thermometer, since many people love to smoke them you can monitor the temperature during the whole cooking process which usually lasts all day to ensure that the bird is getting those wonderful smoky flavors and is cooking properly.
Many people use this as a smoker thermometer for the simple fact that you can monitor it throughout the day without having to continually go out to the smoker cooker or disturb the cooking process.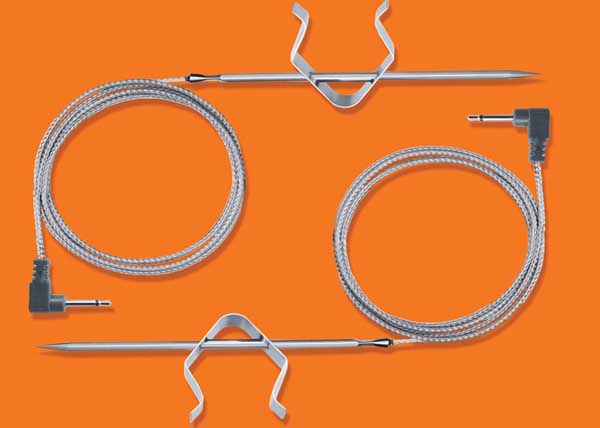 Highlighted Features Of Maverick Thermometer ET 733



Monitor internal temps from up to 300 feet away
Wireless receiver with an LCD screen that flashes and beeps when the temperature varies from the one you've programmed
Easier controls and fifteen new preset temperatures and kinds of meat to select
Bigger backlit screen will show you additional information
Includes 2 hybrid probes
Probe wires are three feet long and rated for up to 716 degrees Fahrenheit
What I Think About Turkey Thermometer



I am very pleased with the amount of options that this thermometer has and said that the programming is pretty easy to figure out.
They also said that if you like slow cooking, this is the perfect wireless meat thermometer for smokers.

Others have noted that they really like the larger screen and that it is much easier to read the temperature than previous models.
They also like being able to see both temperatures at the same time. They stated that the screen is readable even under lighting that is not very good, and that the control panel is under the screen and has a better layout to select temps than the older model.
Another feature that customers found really helpful is the preset temperatures for so many different meats.
Lots of people like to hunt different game, and since this Maverick Thermometer ET733 has this feature, it makes it easier for so many people to monitor the temperature of these meats, even two different fowl at once.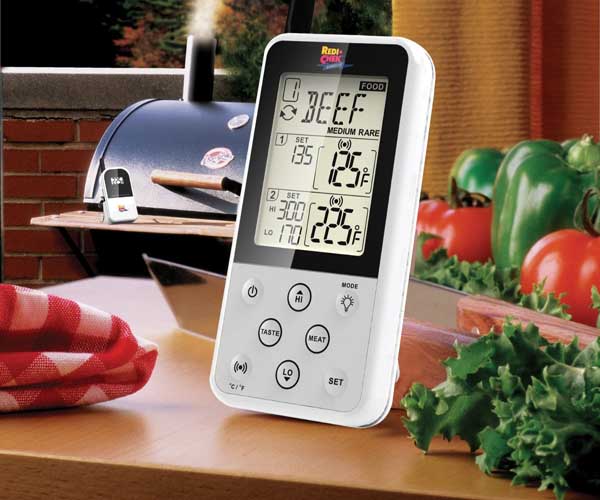 > Purchase This Product on Amazon <
Customers who have purchased this thermometer also stated that it appears to take very accurate readings, enabling them to cook their meats to just the right temperature without any concerns for safety from undercooked meats.
A few people did state that they had some difficulty figuring out how to operate this thermometer at first, however with a bit of time they were able to get it working.
All in all, this digital grill thermometer from Maverick has a lot of great features and does a great job in monitoring the temperature of a wide variety of meats.